I really hate paying for things that have a recurring monthly fee. However, the best money I spend each month is on my SEMrush subscription. I actually resisted signing up for it for a long time since it costs $70 each month, and I really wish that I hadn't been so stubborn! If you've been debating on whether or not to add SEMrush to your toolbox, let me break down how I use it so that you can see why it's so vital to your niche site success. Quite honestly, if you're only going to pay for one tool each month, then I believe that this one should be it.
What It's Capable Of
If you use it for nothing else, you can get a pretty nifty overview of any domain on the web. In the overview, you get a glimpse of traffic, keywords the site ranks for, backlinks, the top competitors in the SERPs, and any paid traffic data if the site is using AdWords. And, you can view it by country, so if you're in France, then you can look at Google FR data.
You can use SEMrush for:
keyword research
traffic data
paid traffic data
backlink checker
finding competitors
spying on keywords the competition ranks for
and probably more stuff that I don't know about!
Here's what it looks like if you plug in a domain to check out like The Sweethome:
And that's just the part of the data that fits on the screen for that screen shot. There is a lot more available for you to check out.
Finding Easy Keywords (and some you might not have thought of)
Probably my favorite thing to do with SEMrush is to use it to spy on my competition and find keywords that they're ranking for that I can use for my sites. If you aren't sure which sites are your competition, SEMrush makes that easy for you to find. It's located down the page under "Main Organic Competitors"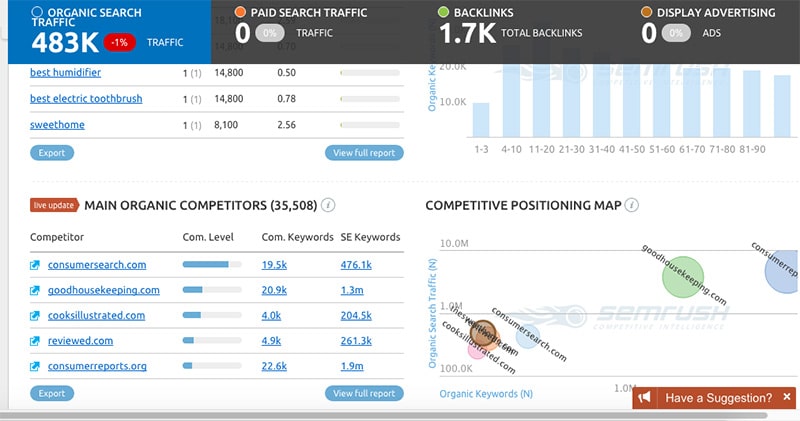 Most of the time, I already have a site or two in mind that I want to run through SEMrush so that I can look through the keywords that they're ranking for to see what I can poach for my own sites. You'll find that keyword section right above the competitors section.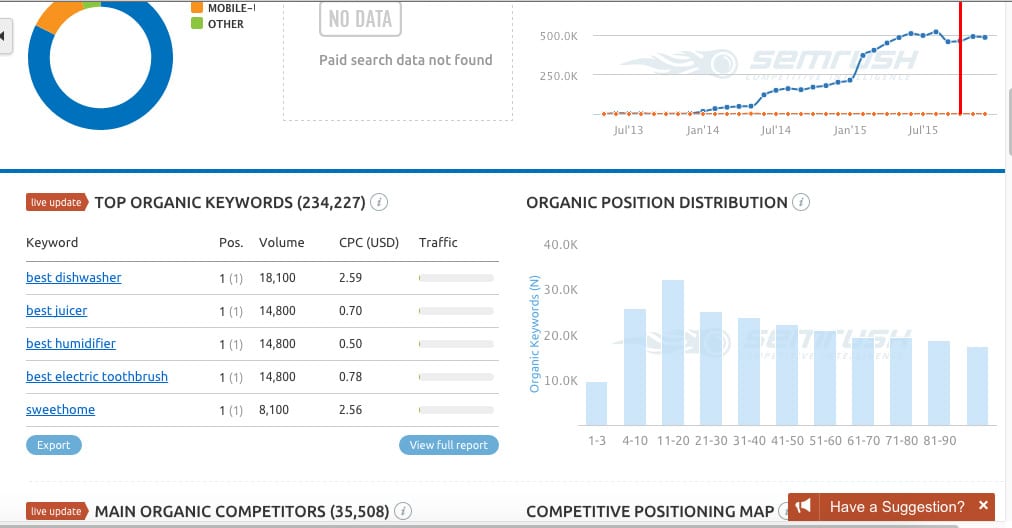 As you can see in the image, a big site like this one ranks for tons of keywords, which is awesome. Of course, you still need to be able to identify good keywords instead of just attempting to rank for every single keyword that your competition does.
Fortunately, SEMrush makes that easy for you as well. You can click on any of those keywords to get additional data on it. Once you do that, you can see search volume, CPC, search volume trends, related keywords, the sites ranking for the keyword in the SERPs and the ads that are running in AdWords for they keyword.
I noticed that "best window air conditioner" is on the report for The Sweethome, and if I click on it, then I get a screen like this…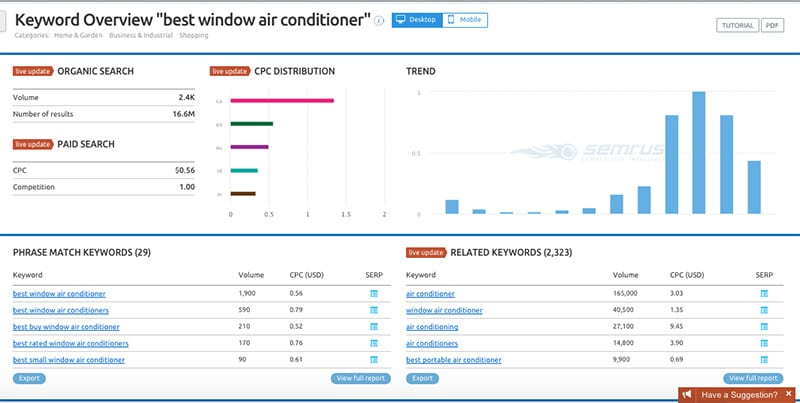 and scrolling further down the pages shows me the first page of results in Google for this keyword phrase. Looking at it, I see that this is definitely not something that I would want to try to rank…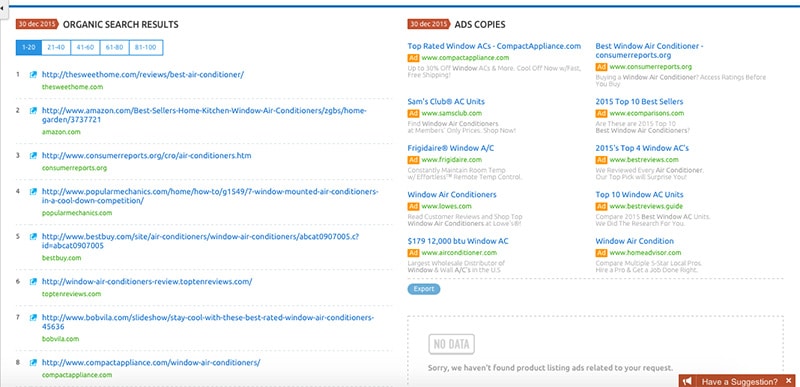 And this is where using SEMrush gets really useful. Since I already know that this keyword phrase is too competitive, I look back up the page at the "phrase match keywords" to see if I can find something that I can easily rank for. It only takes a few seconds to find "best rated window air conditioners" that I could rank for, which gets 210 monthly. Repeat this process a few times and you end up with a nice list of keywords that you can target with your site.
Pretty sweet, huh?
Paid Traffic Spying
Another thing that I use SEMrush for a lot is checking out what types of ads are being run for keywords that I'm targeting. What I prefer to see are either other niche sites running ads or ads where none of them are really that relevant to the keyword phrase. In a few weeks, I'll explain how I use this data but know that it is very valuable information.
Keyword Difficulty
Personally, I prefer to usually just look at the first page of Google to determine how difficult a keyword might be to rank for, but SEMrush can do that for you. I stopped paying for Long Tail Platinum ages ago, so I have no idea how it compares… but here's what it looks like:
I'm honestly not sure how accurate it is though. I have a site that is ranking #1 for a 170 monthly keyword phrase with zero backlinks and just good on-page SEO and SEMrush tells me the difficulty is 80.2%. For comparison, KWFinder tells me that same keyword phrase has a SEO score of 9/100.
So, while this is still a cool tool to have at your disposal, just keep in mind that the accuracy of it is up in the air, in my opinion.
At the end of the day, SEMrush is my favorite SEO tool and one that I use almost daily. If the $70 monthly cost is out of your budget, then know that you can sign up for a free account. However, you won't be able to access full data with a free account. To see if SEMrush is something you should add to your arsenal, take it for a test drive by entering in your domain (or a competitor's !) below and it will take you direct to the report in SEMrush.
And don't worry – I won't be able to see what you enter because it takes you right to the SEMrush site.
If you already use SEMrush, let me know if you have any ninja tips that I might not be aware of!
Hey, I'm Shawna. I make a living working from my laptop in places like London, Sydney, Dubai, Rome, Oslo, Bangkok, Las Vegas, Barcelona, and Amsterdam. I share how I do some of that on this website.