I've been doing SEO for a long time, but there's only one tool that I've been paying for consistently. Sure, I've paid for most of the keyword tools out there at one point, but there is really only one that I've never cancelled my subscription for.
It's KWFinder and I can honestly say that I've been a big fan of it since the first time I used it.
This post contains some affiliate links to products that I use and love. If you click through and make a purchase, I'll earn a commission, at no additional cost to you. Read my full disclosure here.
When I first started using KWFinder it was a 100% free tool. And it became my go-to source for keyword research immediately.
I even used to be on the homepage as a testimonial back when it was free.
As soon as it became a paid tool, I eagerly signed up.  And back then it was a really simple tool in that pretty much all you could do with it is keyword research.
KWFinder has improved a lot since 2014 and it's still worth the money even compared to more expensive tools like Ahrefs and Semrush.
Why KWFinder Is The Best Keyword Research Tool
These days KWFinder is more than just an awesome long tail keyword tool. In fact, it's moved beyond just a keyword research tools.
The find people at Mangools have turned KWFinder.com into a whole suite of SEO tools that give you pretty much everything an SEO needs.
It's a nice balance of simple data, like keyword volume, and more complex stuff for seasoned SEOs, like backlink analysis data.
It's also wicked fast – no twiddling your thumbs while you wait for data to load.
My favorite thing about KWFinder – and why I continue to use it – is that it gives you the whole picture for keyword research.
You get monthly search volume
You get historical monthly search volume (perfect for trend spotting)
You get keyword difficulty scores
You get a SERP overview to what's ranking right now (including valuable data on each ranking URL)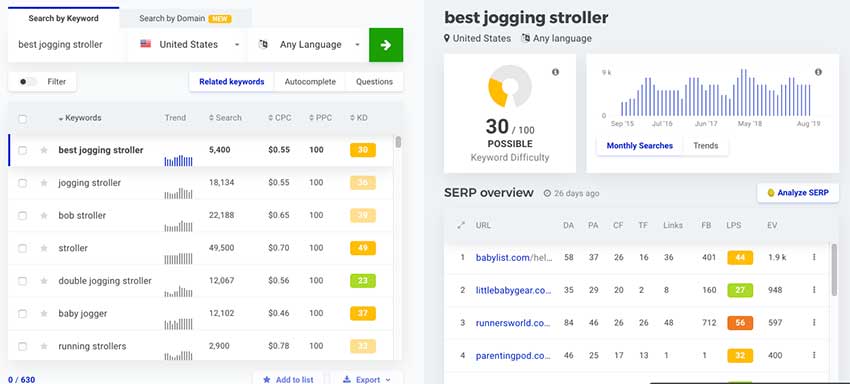 Can you get this type of data with other tools? Yeah, sure you can.
So, what makes KWFinder superior to those other premium SEO tools?
They keep it simple and easy to use. 
Look at that screenshot above – it can't get any easier than that. I can see search volume, historical trends, related keywords, keyword difficulty, sites that are currently ranking + their metrics, and I can update the SERP overview to see what's ranking right this second.
It's also super cheap compared to the premium SEO tools out there.
The cheapest monthly plan for KWFinder is just $29.90 per month. Personally, I use the Premium plan, but the cheaper Basic plan is probably enough for most people.
Even better though is that they have a free 10-day trial where you can try it out with no credit card required!
At the end of the day, KWFinder is my go-to keyword research tool of choice because it gives me all the metrics I need in one place.
Is There A Good KWFinder Alternative?
I know that some SEOs will still be on the lookout for a good alternative to KWFinder. And I get it, I really do.
I used to be all about where I can find low competition keywords for free? Hell, before I started earning money from my sites I used to create multiple email addresses and sign up for free accounts for shit like this all the time.
So, trust me when I tell you that there is no cheaper option out there that is as good as KWFinder.
But, if you truly cannot afford to pay for a keyword research tool, then I believe that these are your best options:
If you can at all afford it, even for just one month, then I think you will benefit tremendously from using a paid tool over one of these free options. Just take KWFinder for a test drive below…
KWFinder vs LongTail Pro
I'm a bit ashamed to say that I've used LongTail Pro in the past because, in my opinion, it was the most garbage tool that I've ever paid for in this industry.
Slow, clunky, terrible UI….I could go on, but I won't.
Sure, it's changed ownership since I've used it and it possible that the new owners have made it better.
It has a free trial, so you're welcome to check it out for yourself ……
BUT …
you still get more for your money with even the lowest plan from Mangools.
Seems like a no brainer to me if we're comparing these two tools.
KWFinder vs Semrush
I've used Semrush a lot over the years and it's a really solid SEO tool at a reasonable mid-level price point.
It even offers a lot of the same features as KWFinder.
But they do have some key differences.
Here's what Semrush can do that KWFinder can't do:
Site Audit
PPC advertising research
SEO Writing Assistant
Social Media Tracker
Brand Monitoring
Social Media Poster
On Page SEO Checker
Content Analyzer
As you can see, Semrush capable of a LOT more than KWFinder. But the question is do you really need all that right now?
I think the best way for you to decide which of these two tools are the best choice for you is to sign up for a free trial with each.
One thing I do want to point out is that KWFinder has a much cheaper monthly cost than the cheapest level of Semrush. And you can use those savings to buy more content or links.
Currently, I do not pay for Semrush but I did pay for it, in addition to KWFinder, for several years until April of this year.
KWFinder vs Ahrefs
I'm not going to lie here – I am a paying customer of Ahrefs and I freaking love this tool. But damn, it is expensive at almost $200/month!
Ahrefs offers a lot of the same features as KWFinder, but where it really shines is backlink analysis. It beats the pants off KWFinder and all other SEO tools when it comes to backlinks.
When it comes to keyword research, what you get from Ahrefs is actually very similar to the output you get from KWFinder – and you're paying a lot more for it.
Things that Ahrefs does that KWFinder doesn't:
Site Audit
SERP Position History
Content Gap
Find most popular content for a keyword via Content Explorer
Link intersect
Broken link checker
Honestly, Ahrefs probably does even more than that, but even I haven't unlocked it's full potential.
Here's my honest opinion on if you should go with Ahrefs or KWFinder –> do you make at least $1,000 month in profit from your site? If yes, then try Ahrefs and use it to it's fullest potential to grow your site. Otherwise, save the money and go with KWFinder.
Or, if you're only going to use the tool for keyword research, skip Ahrefs and go with KWFinder.
See you in the SERPs!
Hey, I'm Shawna. I make a living working from my laptop in places like London, Sydney, Dubai, Rome, Oslo, Bangkok, Las Vegas, Barcelona, and Amsterdam. I share how I do some of that on this website.