By now you've probably seen other digital marketers and bloggers talking about how amazing Pinterest is for growing your websites. How do they have the time for all this pinning?
It's true, manually going to the Pinterest website to do your pinning is a truly a chore. That's why no one is doing that. I mean, I'm sure someone is, but that person is being foolish.
This post contains affiliate links, meaning that if you choose to click through and make a purchase, I will receive a small commission at no cost to you. I was also compensated to create this post, though all opinions are my own. Read my full disclosure here.
The golden ticket to quick and easy Pinterest growth for your sites is the Tailwind App. (keep in mind that my results may not be typical…or even all that great, lol…but Tailwind also publishes the Typical Results of Tailwind Members every year, so you can see exactly what the average growth rate looks like for other users here.)
Now, don't confuse the Tailwind App with Tailwind Nutrition, which is a sort of gross post-workout recovery drink (yes, I've had it, and no I won't drink it again). If you do a blind search on Google, then you'll get results for the recovery drink mixed in with results for the app…which is the only reason that I bring it up…to let you know that ain't it.
What Is The Tailwind App & What Does It Do?
At its core, the Tailwind App is just a Pinterest scheduler. But, there is actually a bit more to it, which is what makes it such a great tool for anyone looking to promote a website.
With Tailwind, you can pretty much completely manage your Pinterest account within the app.
You can upload and schedule new pins.
You can schedule pins others have created to post on your boards.
You can create "Smart Loops" to keep republishing your evergreen content pins.
You can find groups of people in your niche (aka Tribes) so that you can pin each other's pins for more reach on Pinterest.
You can view your Pinterest account's growth progress, including your most re-pinned boards.
There's probably loads more that you can do with it that I just haven't gotten around to figuring out yet. So yeah, it's a pretty amazing tool when it comes to freeing up your time and making Pinterest growth almost effortless.
Oh, and you can also use it to schedule your posts on Instagram but I'm not doing that just yet. (and using it for Instagram is a separate fee.)
How Tailwind Helps You With Pinterest Marketing
I have to admit that I was reluctant not only to give the Tailwind app a try, but I really fought hard against even spending time on Pinterest for the longest time. Why? Because I thought that I didn't have the time for Pinterest marketing.
In fact, it wasn't until late 2018 that I even took the time to see what I could do with Pinterest…before that I was telling my partners that they could do that part of our business. Trying on my own showed me how time consuming it really is….when you're pinning without using Tailwind.
It also showed me how little movement I had been getting on my own compared to using this tool to grow my account.
Using Tailwind to manage all of my Pinterest uploading and pinning has saved me so much time. Seriously.
When I realized how little time it actually takes to do Pinterest marketing with the Tailwind app, I felt really stupid for not testing it out before that point.
I can sit at my computer and schedule several weeks of pins for auto-posting on Pinterest in under a half hour. Then I don't even have to think about Pinterest for those weeks cause Tailwind is taking care of it for me in the background with its automated pinning.
Using Tailwind Tribes helps me get even greater reach with my pins and explode my Pinterest growth even more.
Being the stubborn idiot that I am sometimes, I let a few weeks go by using the Tailwind app before I even took a look at the Tailwind Tribes part of the tool.
Yeah, that was a few weeks of seriously missed opportunities right there. When you sign up for the free trial of Tailwind, and you totally should, I hope that you don't let that much time pass before you dive into the Tribes part.
Do not underestimate how powerful Tailwind Tribes are for turbo-boosting your Pinterest growth.
You just search for niche to discover the Tribes full of like-minded bloggers. Apply to join your preferred Tribes and work with the other site owners to boost and grow your Pinterest account.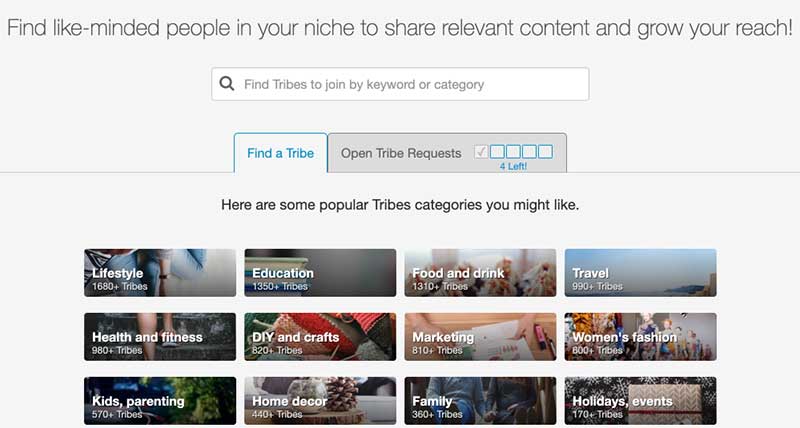 I know that it sounds pretty basic, but is truly is that powerful when it comes to expanding your reach on Pinterest.
And based on what I've seen, using Tailwind Tribes is the easiest way to get a viral Pin.
Not all Tribes are great though. You really have to look for the Tribes with a high activity level and then just test it out to see what kind of ROI you get for your time.
I've gotten in some that have been amazing for repins and re-shares while others have been lackluster and I've bailed on them for greener pastures.
Here's the insights data for one of my most recent accounts that I'm trying to grow –

If you're wondering what all those things in the image above mean, then here's a quick explainer:
Pins submitted are those that I uploaded for my site.
Re-shares refers to the number of times people in my Tribes shared my pins.
Repins refers to the organic pins I got from my re-shared pins.
Reach refers to the potential impressions from all those re-shares.
What's really great about Tailwind Tribes, especially if you are relatively new to Pinterest or have a small reach account, is that Tribes gives you access to people with big reach accounts. That means you can easily get your pins in front of a lot more people that you normally would on your own.
Tip: Definitely consider paying for a Tribes PowerUp to get access to more Tribes and more monthly tribe submissions. When I did this, it greatly improved the traffic to my site from Pinterest — from 20 visits per day to almost 50 per day within a month of upgrading to a PowerUp.
That's the real magic of using Tailwind right there. And that's how you can easily grow your Pinterest account while using it.
How Much Does Tailwind App Cost?
When you sign up you get a free trial of Tailwind that gives you 100 scheduled pins. You don't even need a credit card for it.
After you run through those first 100 pins, you're going to need to pony up a little cash to continue using the service.
You need to sign up for Tailwind Plus once your free trial is over. Luckily, it's really cheap and totally worth it.
Just pay $119.88 for the year or pay monthly at $15/month. For this amount, you get:
400 scheduled pins per month
Membership in 5 Tailwind Tribes
30 Tribe submissions each month
250 SmartLoop posts
You can also get more Tribes memberships and submissions by paying for PowerUps.
You can see the pricing for the Tailwind Tribes PowerUps in the image above. Honestly though, this isn's something that I've ever paid for and I don't really see the need for it.
So, I'm not sure this is valuable for most people. That being said, I think if my site covered more niches, then I would need the extra Tribes membership spaces.
For me, all I've spent is the $119.88 for the year for my account.
Does It Work? Is Tailwind Really Worth It For Pinterest Growth & Scheduling?
Heck yeah it is! I wouldn't be spending my time writing this up and telling you how great it is if I didn't love it and use it myself.
Just check out some of the stats below on the potential of using this tool for Pinterest automation.
Sounds pretty good, eh? Well, if you're looking for how to get more monthly viewers on Pinterest, then this is the answer that you've been looking for to accomplish that goal.
Who Should Use Tailwind For Pinterest Automation?
Anyone who wants to grow their Pinterest account the quick and easy way is a good fit for the Tailwind App.
For me, there are a few reasons that I decided to take the plunge and pay for this tool:
It is a real time-saver.
It has exploded my Pinterest growth.
I want to diversify my site's traffic and Pinterest is a great way to do that.
I want to boost my site's traffic to qualify for Mediavine and this helps send me a new stream of traffic to my site.
Even if you don't currently have a Pinterest account for your site, you need this tool. You don't know it yet, but you do.
Even if you think you're in a niche that targets a male demographic or that you just think won't do well on Pinterest.
There's a free trial, so you really have nothing to lose. Start a Pinterest account, use Canva to create some pins. Sign up for Tailwind and get cracking on.
How I Use It
Since I only promote products that I actually use, you might be wondering how I'm making use of this tool to grow my Pinterest accounts.
First things first, you won't find a Pinterest account for this site. (at least at the time of me writing this). I know, I know, there I go being a stubborn idiot again.
Honestly, my growth priorities right now are my niche authority sites. I do plan on eventually doing the whole Pinterest thing with this site….just not right now.
With my niche sites, I'm trying to build up their Pinterest accounts as a traffic source outside of Google. And Tailwind is how I'm fast-tracking that.
I use Canva (a free account) to create my pins, which I then upload and distribute to my Tribes using Tailwind.
To design my pins, I look to see what type of style is popular in my niche. Then I try to emulate that with my own pins.
When it comes to uploading my pins, I like to keep a balance of my pins vs Tribe repins so that my own pins far outnumber what I'm pinning of other people. A good ratio is around 70:30 so that you're doing around 70% of pins for your own site.
Honestly, I wish I'd started using Tailwind sooner. It's a vital part of my overall Pinterest marketing strategy for my sites. And it will be a valuable tool in your arsenal as well. Seriously, you need to start using the best Pinterest automation software out there – and this is the best I've seen.
Click here for a free trial of Tailwind today.
Or maybe you're not ready to grow your site's traffic without worrying so much about those pesky Google algo updates?
To show you how quick & easy it is to make pins, check this low-effort pin for this post…not my best work, but please feel free to pin it 😉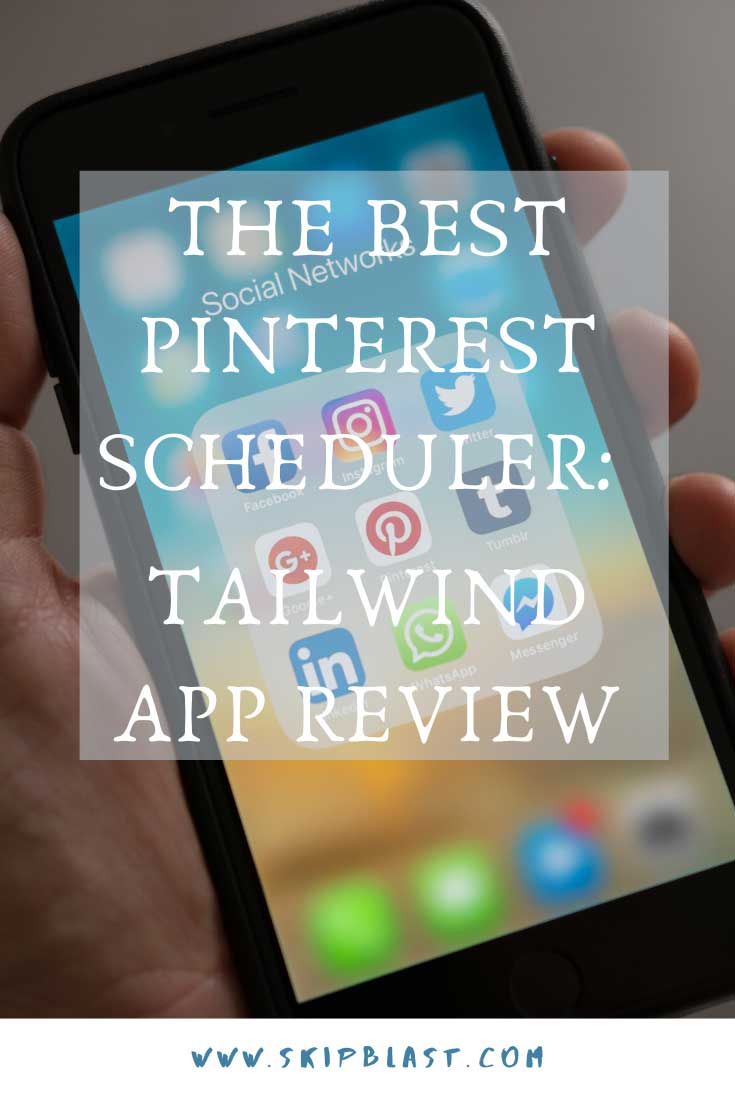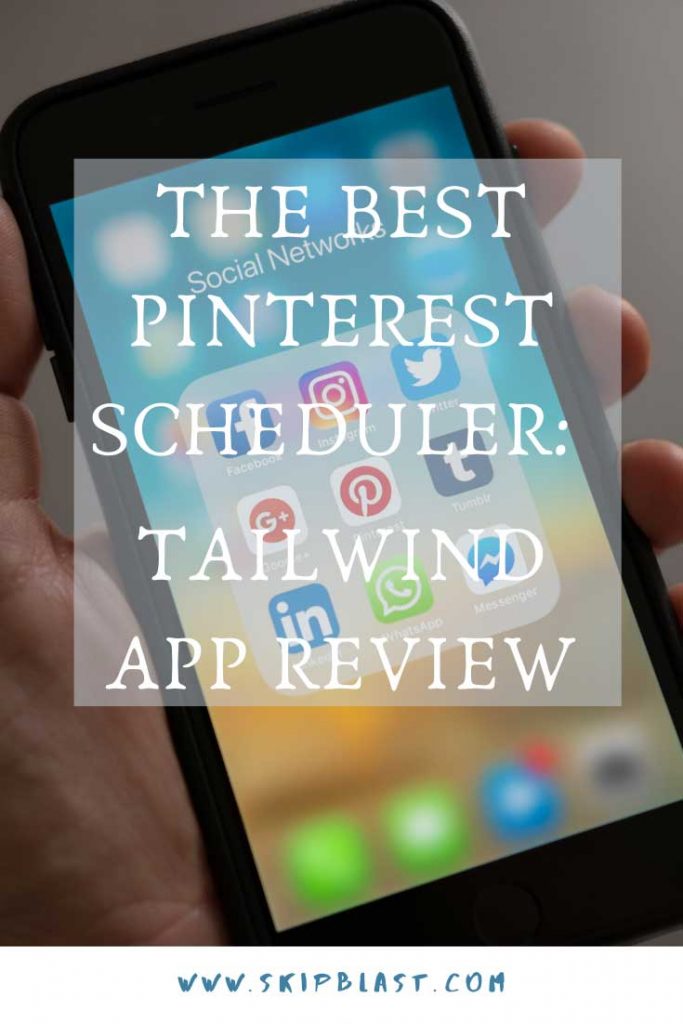 Hey, I'm Shawna. I make a living working from my laptop in places like London, Sydney, Dubai, Rome, Oslo, Bangkok, Las Vegas, Barcelona, and Amsterdam. I share how I do some of that on this website.