Another month down, an algo update and more.
Plus a sprinkle of, man I am getting tired of this niche.
But hey, it's time for another update!
If this is your first time here, the I suggest catching up on the old updates first:
Ready? Okay, let's dive in!
**And as always, I'm an affiliate marketer and this post probably contains affiliate links, meaning I will be compensated if you make a purchase after clicking on my links
Month 14 – What Happened?
So, this update covers the period of October 20th – November 19th, which means an algo update started during this period.
One of the big things that happened during this period is that the affiliate content from Niche Website Builders (discount here) got its first rankings.
As you can see, one of the posts got multiple rankings early on, while it was single rankings for two others on the same day.
Honestly, I wasn't sure how Google would react to this site adding affiliate content and it looks like the answer is – not as well as it does to informational content.
Usually when I post new informational content the first rankings are on page one or two.
So, that is a bit disappointing to discover.
And the buying guides that Niche Website Builders is creating vary in competition, so it's not like they're all super competitive.
It will be interesting to see how things progress with the affiliate content though.
Who knows, I may discover that I need to go back to informational content.
One thing that I am not at all happy about is the site's traffic for this period.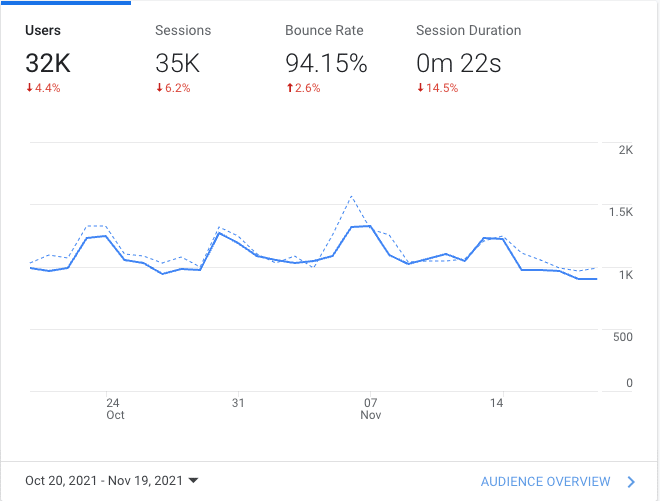 That's a drop of around 1,000 monthly sessions. Ugh.
I think this is due to a combination of things.
First, you can see the tail end there where the algo update was not kind to this site (spoiler alert: you will see some recovery in the next update).
I also actually stopped publishing new content.
Wait, I did write up one quick post myself, but that was it for this site.
Since Niche Website Builders is a little behind on things, I didn't get any additional affiliate content from them during this period.
And for those of you who like to see the email that I get from Ahrefs with new keywords from the site –
You can see the effects of the algo update with the reduction in top 3 positions in the screenshot.
Now another significant thing happened with this site during this period – I was approved to move it to a premium ad network as an add-on site! (no, I'm not sharing which one)
Though there was some miscommunication as to when those new ads would go live, which resulted in me removing the Ezoic ads prematurely (and that fucked up my EPMV when I re-added the Ezoic ads).
So, all that to explain why the income for the site is down. It's due to a few days with zero display ads.
For this period, the site is monetized with Ezoic, Amazon, and some other affiliate programs that I'm testing.
Since the last update, this site earned $713.72 (in October 2021).
So, that's a decrease of around $163, but that is 100% my own fault (as much as I hate to say it).
This income came from:
Amazon
Third-party affiliate program
This screenshot shows you just how much I fucked up my EPMV –
And here's a closer look at the by-day numbers –
Yup, that blows and I won't make that mistake with other sites in the future.
In regards to backlinks, I just want to remind you that I'm not planning on doing any link building for this site anytime in the near future.
That's the whole reason for buying an aged domain from Odys.
If you recall in the last update I had a page get a link in a nationally syndicated article, and at the time it had brought in 48 new referring domains.
Now, that number is up to 70 referring domains!
Here's a sampling of what those look like –
And yes, the DR has only gone up one number since the last update, making it a total rise in my DR of two for all these links.
Kinda crazy, huh?
Honestly, I'm a bit surprised all these links haven't caused the traffic to take off like crazy, though I have seen something like this before.
I have a site that got a bunch of high DR links naturally like this a few years back and Google effectively demoted that site in the SERPs for a full year before those links kicked in.
Hopefully, this site won't get a similar demotion.
Month 14 Summary & Thoughts
What can I say? Things didn't really go as planned for the site during this period.
But that's just what happens sometimes.
Part of it was on me, and part of it was out of my control.
All I can do is get back to publishing content and focus on pushing forward.
Here's how the last 30 days of this site looked:
Traffic: 35K sessions (approximately)
New Published Posts: 1
Per article average cost of outsourced content: $0 this month ($47.47 to date)
Total published words to date: 489,389
Average word count per article (all): 1,180
Income: $713.72 this month ($5,034.86 to date)
Links built: 0
New natural links: 22
Initial Budget Remaining: $0 (I'm over-budget)
Now, the last 6 months of revenue is an average of $668.71, making a list price at a 35x multiple result in a sales price of around $23,405.
Still not interested in selling the site right now, but it's nice to see that I if did that I could make all my money spent back with a teensy amount of profit.
Questions?
Did you miss how this case study started? Get caught up from the beginning here.
Hey, I'm Shawna. I make a living working from my laptop in places like London, Sydney, Dubai, Rome, Oslo, Bangkok, Las Vegas, Barcelona, and Amsterdam. I share how I do some of that on this website.