Due to ongoing family stuff, this site didn't get much work during the month.
But, this is a good look at how an established site performs when neglected.
Let's get to it, shall we?
If this is your first time here, then I suggest catching up on the old updates first:
**And as always, I'm an affiliate marketer and this post probably contains affiliate links, meaning I will be compensated if you make a purchase after clicking on my links
Month 17 – What Happened?
This update covers the period of January 20th – February 19th.
As mentioned above, I had some family stuff that kept me preoccupied for most of this period – so I didn't get to devote as much time to the site as I'd like.
And traffic was pretty stagnant for the site.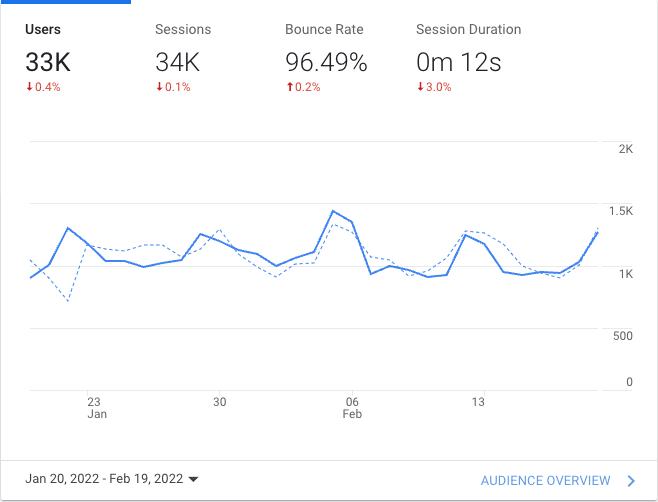 Some new content was posted to the site, though less than 10 articles total.
I got more live content from Niche Website Builders (discount here) for the site, again this was all affiliate content (buying guides).
As I mentioned in the last update, Google doesn't seem to be responding well to affiliate content on this site, so I paused the NWB affiliate content for this site for now.
These were the final outstanding articles that I'd paid for with them.
If I start to see that the affiliate content performs better, then I will resume that NWB order for this site.
Why am I not using NWB to do informational content for this site? Because I can get it cheaper at a similar quality – that's the only reason.
I also was able to get two informational posts up on the site during this period, and I wrote those myself.
I'd hoped to get around to test creating some topic clusters around those buying guides for the NWB content, but that it not something that I had time to get to during this period.
The Ahrefs new keywords update that I get by email is showing some losses, which may be a result of the lack of work this site has gotten in recent months.
I'm not really concerned about this though because this can happen. A regular series of drops would be cause for concern.
Month 17 Summary & Thoughts
While I would have really liked to have put more time into this site, it just wasn't in the cards for me.
Fortunately, the family stuff has ended and I'm getting back to putting in the effort on this site and the next update will hopefully be more eventful.
But the really disappointing thing with this update is the steep drop in RPM for the new year.
This site has experienced the biggest RPM drop of any of my sites, which is quite unexpected.
Here's how the 30 day period for this update looked:
Traffic: 34K sessions (approximately)
New Published Posts: 7
Total spent this month: $10 for hosting
Per article average cost of outsourced content: $0 this month
Total published words to date: 536,151
Average word count per article (all): 1,200
Income: $688.35 this month ($7,614.89 to date)
Links built: 0
New natural links: 4
Initial Budget Remaining: $0 (I'm over-budget)
Now, the last 6 months of revenue is an average of $830.59, making a list price at a 35x multiple result in a sales price of around $29,070.
As you can see, the RPM drop affected not only the monthly income, but the monthly average. This is really frustrating since nothing really changed with the amount of traffic.
The best way to counteract this is to create a bunch more content, but the truth is that this site isn't even one of my top 3 revenue generating sites so it's not a primary focus for me right now.
So, while I am disappointed at the RPM drop and resulting revenue drop, it's not something I'm actively working on counteracting right now.
Questions?
Did you miss how this case study started? Get caught up from the beginning here.
Hey, I'm Shawna. I make a living working from my laptop in places like London, Sydney, Dubai, Rome, Oslo, Bangkok, Las Vegas, Barcelona, and Amsterdam. I share how I do some of that on this website.