A bit late on this update, but that's not due to a lack of progress.
I spent the time focusing on adding more content to the site and trying to identify new monetization options.
If this is your first time here, the I suggest catching up on the old updates first:
Ready? Okay, let's dive in!
**And as always, I'm an affiliate marketer and this post probably contains affiliate links, meaning I will be compensated if you make a purchase after clicking on my links
Month 9 – What Happened?
This update covers the 30 day period ending on June 19th.
I think the aging content is starting to show some rewards based on the 30-day traffic trend.
Things are still on the rise, with an increase of around 6,000 sessions compared to the previous 30 days.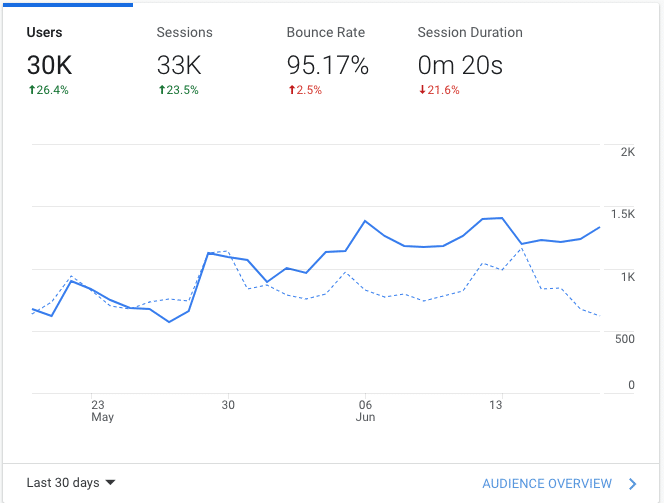 And if you recall my previous update, that one only saw a 3K traffic boost, so this is a big win right here.
I finally started that Pinterest account for this site and some traffic has already started trickling in, which is nice.
For those of you interested, here's what the weekly email from Ahrefs on new keywords looked like at the end of this 30-day period: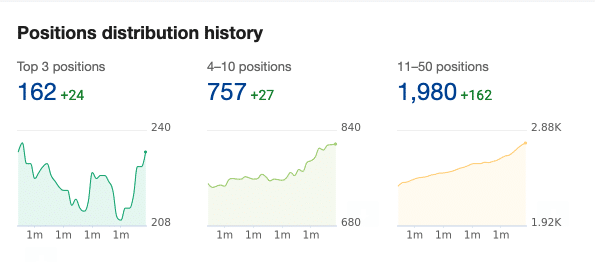 Content continues to index and start ranking pretty quickly, so I'm still pleased with that.
I feel like this is one of those sites where I need to get content up as fast as possible – and it never feels fast enough.
This site is still monetized with Ezoic and a couple of Amazon links.
I've still been testing some private affiliate program links on the site, but still nothing exciting to report there.
Since the last update, this site earned $396.80 (in May 2021).
So, that's a good $100 increase over the previous month.
Of course I'd like to see more of an increase, but still happy with this.
And this is a good time to mention that as someone who primarily focuses on affiliate income, this paltry amount is really killing me.
I've been focused on doing only informational content for the first year, but I may have to start doing affiliate focused content soon to get these earnings up.
Anyways, this income came from:
Amazon
Other affiliate program
One interesting data point is that my Ezoic ePMV has decreased by almost two dollars.
So, that's not great.
The reason that this happened is because my Ezoic account totally fucked me for 5 days with earnings that were only a fraction of what they should have been.
I was losing $7-$15 each day this issue was present. After contacting my account manager, I was told that most of my placeholders had disappeared.
I was asked if I'd changed my theme to cause this. (I did not)
I saw in a Facebook group where a few other people were having the exact same issue and we all were using the GeneratePress theme.

Never saw an update as to why this happened to some people, but it's fixed now after 5 days of terrible earnings.
In regards to backlinks, I just want to remind you that I'm not planning on doing any link building for this site anytime in the near future.
That's the whole reason for buying an aged domain from Odys.
Month Nine Summary & Thoughts
Like in the previous update, I've continued my push for more content on the site, albeit at a slightly slower pace.
I managed to get up around 40 new posts on the site.
It would have been more, but my writer had major surgery that resulted in complications.
Here's how the last 30 days of this site looked:
Traffic: 33K sessions (approximately)
New Published Posts: 39 (all outsourced)
Total spent this month: $10 for hosting and $2,322.25 for content ($13,380.95 to date)
Per article average cost of outsourced content: $64.51 this month ($51.72 to date)
Total published words to date: 337,270
Average word count per article (all): 1,235
Income: $396.80 this month ($1,419.38 to date)
Links built: 0
New natural links: 3
Initial Budget Remaining: $0 (I'm over-budget)
Still hustling to reach 300 live posts as my next goal. But, as I mentioned above, I did finally get that Pinterest account started!
And I'm still chasing that magic 50K sessions to qualify for Mediavine.
I tried to apply early, but they told me no.
Also, I was recently on Doug Cunnington's podcast/YouTube talking about this project.
$400 a month All Info Site Update with Shawna Newman
Questions?
Did you miss how this case study started? Get caught up from the beginning here.
Hey, I'm Shawna. I make a living working from my laptop in places like London, Sydney, Dubai, Rome, Oslo, Bangkok, Las Vegas, Barcelona, and Amsterdam. I share how I do some of that on this website.