Another month in the books on this case study site.
Things are still going well, although not at a fast enough speed for me!
If this is your first time here, the I suggest catching up on the old updates first:
Ready? Okay, let's dive in!
**And as always, I'm an affiliate marketer and this post probably contains affiliate links, meaning I will be compensated if you make a purchase after clicking on my links
Month 10 – What Happened?
This update covers the 30 day period ending on July 19th.
Content was the focus, again, and I'm continuing to see those rewards.
Traffic still on that upward trend, with around 4K more sessions than the previous 30-day period.
A growth of 4K sessions is nothing to be upset about, but damn if I'm not getting impatient waiting for this site reach that magical 50K sessions threshold for Mediavine.
I've still got some Pinterest traffic trickling in here, but I don't know if Pinterest is the best place for my efforts in this niche.
I may start testing Facebook to see if I get better returns for my time.
For those of you interested, here's what the weekly email from Ahrefs on new keywords looked like at the end of this 30-day period: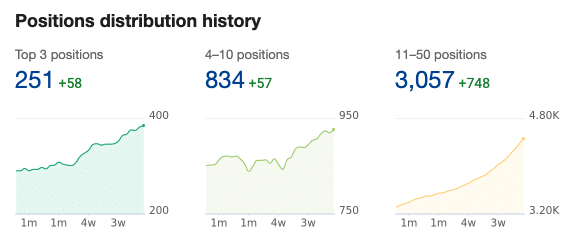 Content continues to index and start ranking pretty quickly, so I'm still pleased with that.
One thing that I am starting to notice is that there's some stagnation with the site.
This isn't surprising with all the recent algo updates. I assume that some of the keywords I'd previously marked as easy to target are now more difficult with those updates.
So, I think I need to dig back into my keyword list and do some new competition analysis.
I recently had someone ask me about my keyword research process.
For this site, I've been doing what I call the Viking Method, which is to raid and pillage the SERPs for keywords weak sites are ranking for currently.
Anyways, this site is still monetized with Ezoic, a couple of Amazon links, and some other affiliate programs that I'm testing.
I did get a special commission rate for one of those other programs, so I look forward to seeing if I can drive any traffic to them to take advantage of this rate that's better than Amazon's.
Since the last update, this site earned $475.30 (in June 2021).
So, that's around an $80 increase over the previous month.
Of course I'd like to see more of an increase, but I'm still happy with things trending in the right direction.
This income came from:
Amazon
Other affiliate program
And the EPMV for this site is really fucking terrible right now.
I've talked to people in this niche who are in Mediavine and AdThrive and they're getting around $30 RPM.
So, I'm really looking forward to getting this site with one of those before year's end.
In regards to backlinks, I just want to remind you that I'm not planning on doing any link building for this site anytime in the near future.
That's the whole reason for buying an aged domain from Odys.
Month Ten Summary & Thoughts
Like in the recent updates, I've continued my push for more content on the site, albeit at a slightly slower pace.
I managed to get up around 60 new posts on the site.
Several of those new posts target high competition keywords, so I expect it to take a bit longer for those to pop.
Here's how the last 30 days of this site looked:
Traffic: 37K sessions (approximately)
New Published Posts: 60 (all outsourced)
Total spent this month: $10 for hosting and $2,365.12 for content ($15,756.07 to date)
Per article average cost of outsourced content: $39.42 this month ($49.07 to date)
Total published words to date: 389,349
Average word count per article (all): 1,232
Income: $475.30 this month ($1,894.68 to date)
Links built: 0
New natural links: 0
Initial Budget Remaining: $0 (I'm over-budget)
And, yes, I did manage to break that 300 live posts goal that I mentioned in the last update.
I have another site that's managed to reach 100,000 pageviews and I'm trying to get it into AdThrive. If that works out, then I'll be looking to onboard this site as a secondary site (only 30K pageviews requirement for additional sites).
I really want that RPM boost that comes with AdThrive, according to other site owners in this niche.
And, since July is already over, here's a sneak peak of next update to this case study — this site earned over $700 in July!
Questions?
Did you miss how this case study started? Get caught up from the beginning here.
Hey, I'm Shawna. I make a living working from my laptop in places like London, Sydney, Dubai, Rome, Oslo, Bangkok, Las Vegas, Barcelona, and Amsterdam. I share how I do some of that on this website.