Like most people who have experience buying sites, I have my own process for vetting a site that I'm interested in buying.
You know, a few things to check here and there, red flags to watch out for, etc.
But I'm the sort of person who is always trying to learn from other people, so when I was offered a free copy of EasyDiligence.io I jumped at the chance because Mushfiq has more experience buying sites than I do.
Due to some ongoing family drama, it's taken me longer than expected to do this review but I was actually able to use this tool to check out a site on Flippa that I'm interested in buying.
**And as always, I'm an affiliate marketer and this post contains affiliate links, meaning I will be compensated if you make a purchase after clicking on my links.
Quick Thoughts On The Pricing Tiers
Before I give you my thoughts and experience with this tool, I do want to point out that there are three different pricing tiers and what you actually get varies by tier.
The cheapest option gets you access to only the Questions Database that covers everything you should be considering when vetting a site for purchase. If you already have purchased EasyWins.io, then you know what to expect here.
The mid-level pricing option gets you access to the Questions Database + Easy Diligence Dashboard. The dashboard is built in Google Data Studio, which is super easy to use if you're new to it.
And the highest price level option gets you access to the Questions Database + Easy Diligence Dashboard and Teardown Video. The teardown video is where you get walked through an evaluation of a site that you want to buy.
So, you've got different value-adds each time you level up a pricing tier.
The free copy of this that I got was the Questions Database + Easy Diligence Dashboard.
My Experience Using EasyDiligence.io
As I mentioned above, I was able to use this to evaluate a real site on Flippa that I got analytics access for because I'm considering purchasing it.
The site I'm looking at buying is in a niche that I've never worked in before, so I don't really know that much about it.
So, I just started at the beginning with the questions database to start vetting this site.
And then, boom, number 8 stopped me in my tracks.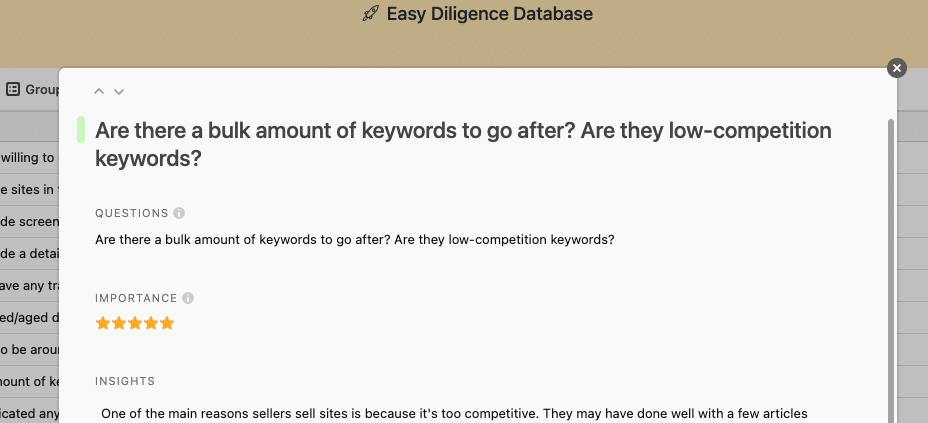 Did I really start to think about buying a site without even doing any keyword research?
Yup, I totally fucking did like a noob.
The thing is that I know better than to not check out keywords and trends in the niche, but I just forgot, I guess.
At this point, I could already tell that I was going to be spending more time than I usually do when I'm vetting a site because there's 47 questions to go through and I had to stop at #8.
Spoiler alert: it did!
I ended up making my way through the rest of the questions and discovered a few really important things:
This site I'm considering buying is only a good deal for me if I get it at a low multiple because it does have a few things that make me worried about profiting on the flip.
My process in the past has never been this thorough.
This questions database is going to be a great resource the next time I sell a site.
So, even though I'm now iffy on purchasing this site from Flippa, I still plugged it into the Easy Diligence dashboard to see what kind of data it would give me.
Here's a screenshot of the "monthly analysis" view.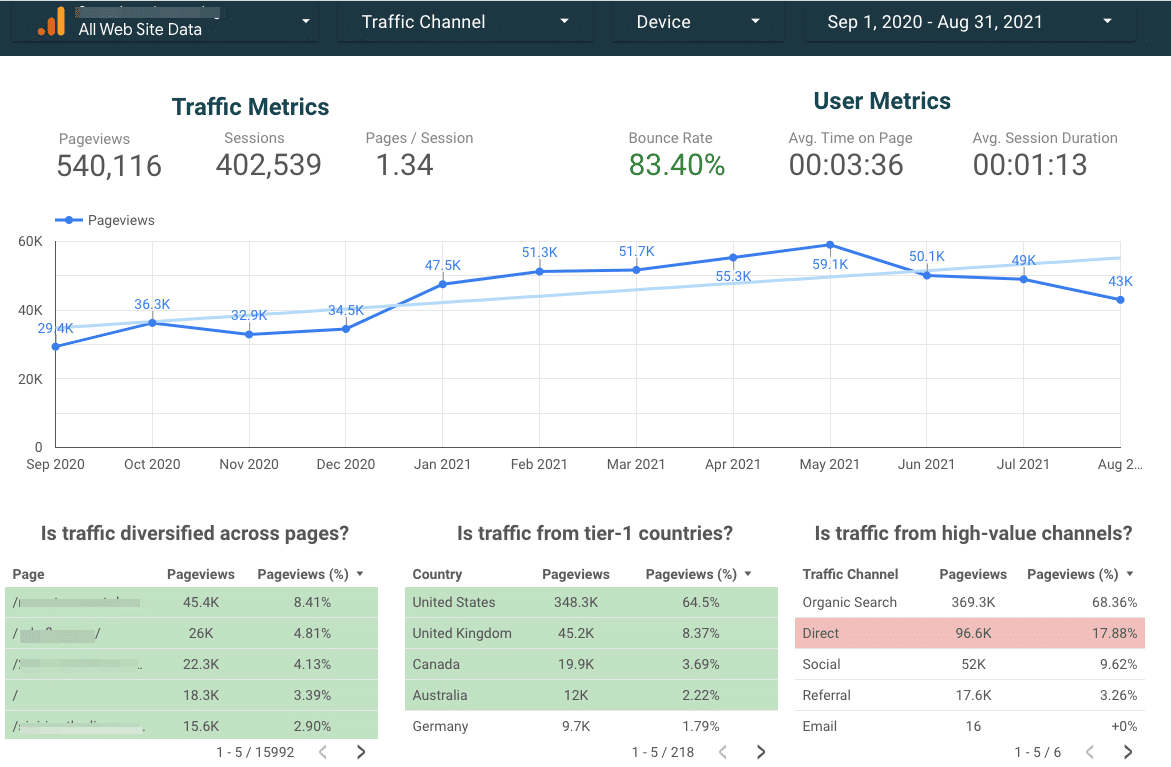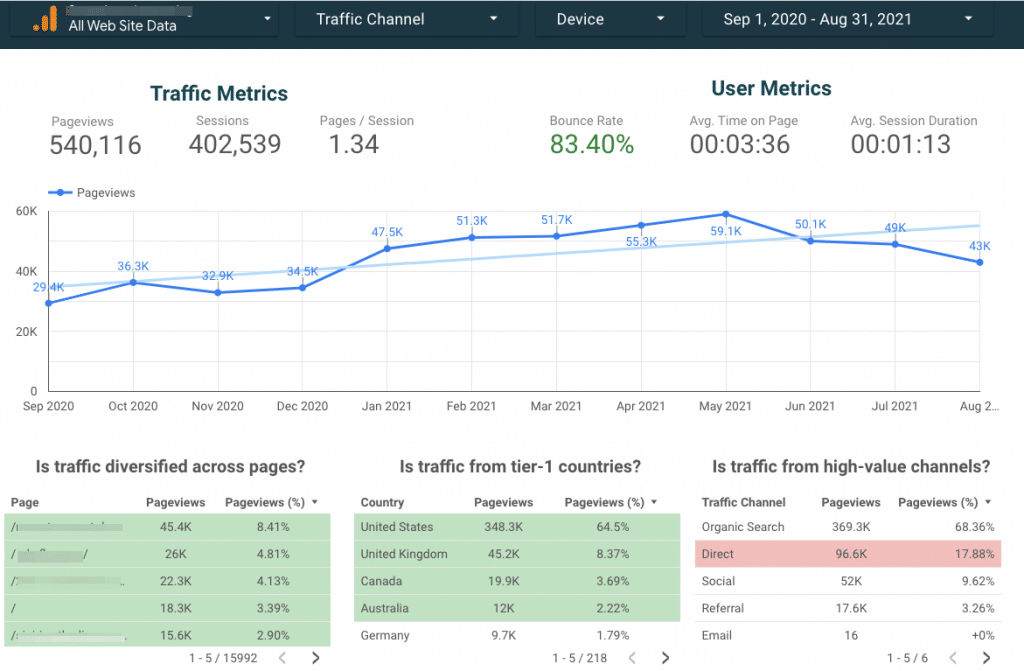 Honestly, the site looks pretty good in this dashboard.
Traffic coming in from tier one countries and traffic higher than the same time last year.
However, you can see that traffic has been on a decline since May 2021. (and it's actually still on a downward trend for September.)
Now, with the "daily analysis" view, I've adjusted the dates to show you the daily traffic up until the day before it was listed on Flippa (because traffic spiked that day and has been higher ever since with all the website buyers checking it out).
With this view, you really notice that traffic decline that is continuing…and this is not a seasonal niche.
I have to say that I was leaning more towards buying it before I went through the Questions Database + Easy Diligence Dashboard.
After going through the vetting process with this tool, I'm now thinking I'd only buy this site for a max of around $5K-ish. And that would be to just move the content to an existing site instead of trying to finesse this one and flip it.
At the average of 35x, this site would go for over $10K though, so I don't think it will end up being priced low enough for me to jump on it.
Final Thoughts
I know that this tool was designed for people who buy sites, but I think still it's also a great resource for people who are creating sites that they want to sell.
If you can make sure that your site passes all of the questions in the Questions database, then you'll be better poised for a quick sale.
And if you buy sites, then you cannot sit out this one – it will be make you better at vetting sites. And it makes the process easier for you cause you have the list of questions to follow.
So, my recommendations –
If you're a site builder, you only need the Questions Database.
If you buy sites, or plan to, then I recommend getting the Questions Database + Easy Diligence Dashboard level of this tool. Of course, if this is going to be the first time you ever buy a site, then that teardown video will likely benefit you – just you know that you only get one teardown video included in the price AND you can cash that in at any time because it never expires.
Hey, I'm Shawna. I make a living working from my laptop in places like London, Sydney, Dubai, Rome, Oslo, Bangkok, Las Vegas, Barcelona, and Amsterdam. I share how I do some of that on this website.