While this is only the 11th update that I've done for this case study, the end of this month actually represents one year since I bought this domain at Odys.
That means this update will also include a bit of a recap of how things went for this first year that this site was live.
If this is your first time here, then I suggest catching up on the old updates first:
I'm excited to dig in on this update, so let's get to it!
**And as always, I'm an affiliate marketer and this post probably contains affiliate links, meaning I will be compensated if you make a purchase after clicking on my links
Month 12 – What Happened?
This update covers the 30-day period ending on September 19th.
And that means one year is in the books!
By now you should know how I spent my time for the month – content, content, content.
Though this month did mark my last big push towards informational content.
If you recall, I started this case study with a plan to only do informational content for the first year.
This also means that I have stopped using the ultra-cheap writer that has previously been writing content for this site.
Later in the month I placed an order with Niche Website Builders to start creating affiliate content for this site.
For now, I just signed up for the 10,000 words package at $700/month. If you're interested in doing the same, they've created some coupons for readers of this site!
I placed my order on Sept. 15th, so I don't have any content back yet – but watch for next month's update to see how it's going.
Now for some of the interesting things that happened for this site last month.
It was rejected (as an add-on site) by both AdThrive and Mediavine for brand safety issues.
So, I deleted some posts and waited 30 days for them to be out of my analytics and resubmitted to see if I can get it approved.
And I'm still waiting to hear on that.
Anyways, I was expecting a drop in traffic after removing those posts, but the 30-day period actually ended up with a slight increase.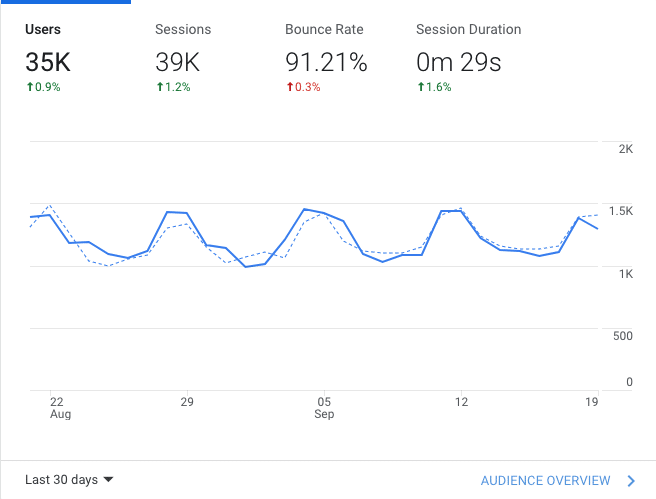 That's only around a 1K gain in sessions compared to the previous month, but considering that I deleted some of the top posts this is a very good thing.
If I hadn't had to delete those posts, then the growth would obviously have been higher, but oh well.
For those of you interested, here's what the weekly email from Ahrefs on new keywords looked like at the end of this 30-day period:
I feel like this is looking really good and I'm excited with how the rankings are going for the site.
Content is still indexing and start ranking pretty quickly, so I'm still pleased with that.
I hope this continues with the change to affiliate content next month.
This site is still monetized with Ezoic, a couple of Amazon links, and some other affiliate programs that I'm testing.
I got my first sale from a really niche affiliate program, so that shows some promise as well.
Since the last update, this site earned $813.52 (in August 2021).
However, I do need to point out that the posts that I had to remove previously accounted for $50-$75 of revenue each month and now those are gone.
So, if I hadn't had to take those posts down, the revenue for the month would have been higher.
Anyways, what that leaves is an increase of around $77 compared to the previous month.
Sure, I'd like to see more, but I'm always happy to be trending in the right direction.
This income came from:
Amazon
Third-party affiliate program
Happy to see that the EPMV is on an upward trend for this 30-day period compared to the previous month.
Definitely not mad about a $20.49 RPM (remember that EPMV is based on sessions, just like Mediavine's RPM).
In regards to backlinks, I just want to remind you that I'm not planning on doing any link building for this site anytime in the near future.
That's the whole reason for buying an aged domain from Odys.
Month 12 Summary & Thoughts
I'm happy that I was able to boost the content production for this site after slowing down a bit last month.
I managed to get up almost 50 posts on the site (all informational).
Here's how the last 30 days of this site looked:
Traffic: 39K sessions (approximately)
New Published Posts: 48 (mostly outsourced at Writer Access)
Total spent this month: $10 for hosting and $2,384.36 for content ($18,884.17 to date)
Per article average cost of outsourced content: $35.09 this month ($46.66 to date)
Total published words to date: 462,070
Average word count per article (all): 1,188
Income: $813.52 this month ($3,444.89 to date)
Links built: 0
New natural links: 0
Initial Budget Remaining: $0 (I'm over-budget)
Now, the last 6 months of revenue is an average of $502.34, making a list price at a 35x multiple result in a sales price of around $17,500.
Luckily, I don't need to sell the site right now (and if I did, I'd end up losing money on this after factoring in the 15% broker fee), so I'll keep growing it until I feel the time is right.
Year One Recap
I have to say that I'm pretty excited to have the first full year of this site under my belt.
This project started because I was curious how well a site would do if you focused on only informational content, with the occasional affiliate link when relevant.
Until this site, I'd never focused exclusively on display ads for monetization, so it's been an interesting learning experience for me (and hopefully for you as well).
I do have to say that I am a bit discouraged with the income in the sense that roughly $800/mo is all that I have to show for a full year of work of almost 400 live posts on a quality aged domain and expenses close to $19K.
I know that if I'd made a pure affiliate play with this amount of content, expense, and effort, that I could easily be in the $2,000 – $3,000 month range right now.
And that would have meant I'd be all set for a six-figure sale within 12 months.
But alas, that was not the objective of this case study.
Now that we're entering year two of this site, my primary content focus is going to be on affiliate-focused content.
I will still be adding informational content, but not at the same pace as before.
If you're curious about how the site has grown in the year, then check out some of the screenshots below.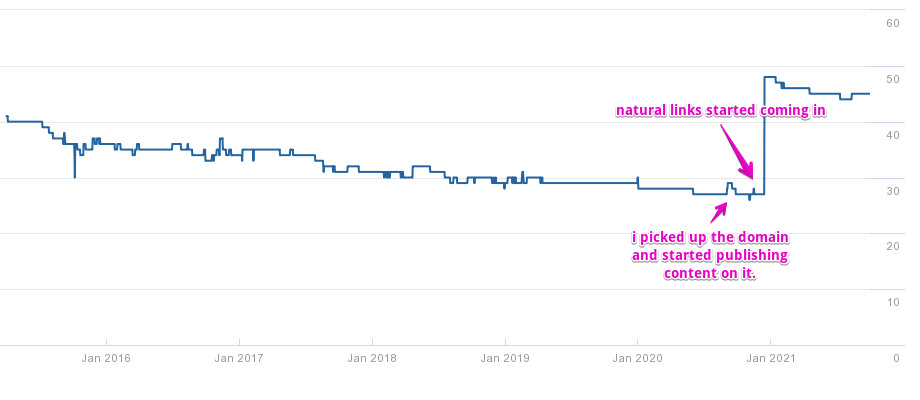 Here's what the change in DR has looked like for the site, despite me doing zero link building – it's just picked up natural links.
And below is a look at Google Analytics for this site for the past 12 months.

And here's a look at my content publishing by month (sorry the image is not great, I had to zoom out to capture it all in one screenshot).
And here's a basic little chart to show you how the income has grown over these last 12 months.
So, what's next for this site? Still lots of the same – content, content, content.
Except now, there will be affiliate content.
I have Niche Website Builders (coupons for extra content here) working only on buyer guides for me and I'm giving them free rein here.
They can create affiliate content on any products that relate to the niche.
I'm excited to see what they come up with because this is a big niche with tons of products.
And I'm really interested in seeing how Google ranks this new content since the focus has only been on informational content.
Thanks for going on this journey with me!
I'll continue doing monthly updates until I eventually flip this site.
Questions?
Did you miss how this case study started? Get caught up from the beginning here.
Hey, I'm Shawna. I make a living working from my laptop in places like London, Sydney, Dubai, Rome, Oslo, Bangkok, Las Vegas, Barcelona, and Amsterdam. I share how I do some of that on this website.