Recently I got an email from someone regarding my new course on topic clusters asking me what the big deal was anyways.
"It's just silos by another name" was what the angry dude told me.
I try to avoid engaging with assholes cause it's not good for the mental health, and honestly, I'm not here to convince anyone that they're wrong.
I'll happily crush your ass in the SERPs while you sit on your throne of wrongness.
But back to the matter at hand – no, topic clusters are not the same as silos.
However, I guess you could say that silos form part of a successful topic cluster.
Silos + Deliberate Planning = Mega Power
If you have experience creating silos, then you have a good start to transition into thinking in topic clusters.
I think there are three key things that differentiate silos from topic clusters.
Topic clusters require deliberate planning for your site architecture
Topic clusters take a hell of a lot more effort than a silo
The top level page of a silo is content-poor, and the opposite is true for a topic cluster
The end result here is that topic clusters are a hell of a lot more powerful than silos.
I know that I've mentioned in the past how interested I am in not having to create backlinks for my sites. (Shoutout to Anne at yeys.com for getting me on this bandwagon.)
As I've done more and more competitor research over the last 18-24 months, I began to notice a recurring theme among the sites that were crushing it without building links.
Their site architecture was fucking amazing and make my sites look like amateur hour.
They clearly were making very intentional decisions about the content that they published.
Oh, and their internal linking was better than your average affiliate site.
So, the tl;dr here is that these sites were ending up with massive topical authority that required zero external link building.
Building New Sites With A Topic Cluster Strategy
Earlier this year, I decided to start making new sites on brand new domains (not an aged domain) so that I could run a proper experiment on how effective this really is.
And hey, I've got some screenshots to show you how it's going!
First up is a site that I started in February on a brand new, never before registered, domain.
As of today, this site has just 55 live posts. You can see a Google Analytics screenshot for this site above.
Right now, this site is doing around 5,000 monthly sessions.
The first topic cluster than I'm working on is going to be a couple of hundred posts long (at least), so I still have a long way to go before I finish.
But, the takeaway here is that I've got a domain with zero links pointing at it bringing in 5,000 monthly sessions in less than a year.
The niche is one that I've never worked in before, but most of the competitor sites are rather old.
And yes, I do already have several featured snippets.
I can't wait to see how this site performs once I finish this first topic cluster.
Next up is a site that I started in late-July, also on a brand new, never before registered, domain.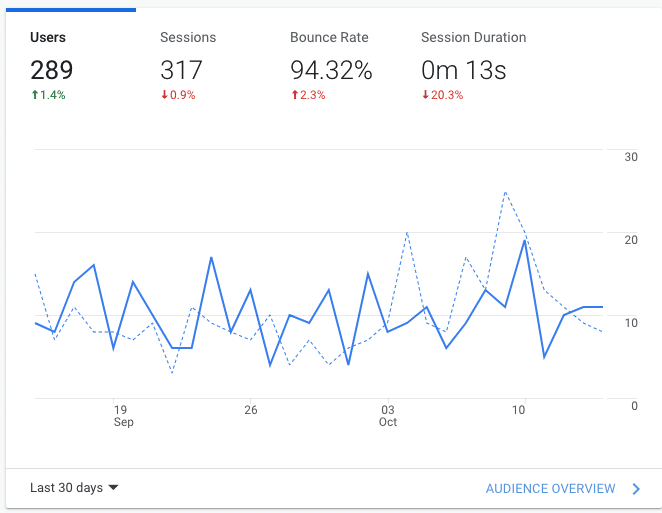 This one only has 18 live posts so far, mostly because I had a bit of analysis paralysis as far as which topic cluster to start with.
You see this site is a bit broader than the one above (also in a new-to-me niche), so I have the potential to build out at least a dozen (but likely more) topic clusters on this site – and I had a hard time deciding which to tackle first!
So, I picked one and actually started getting content up in late August…but only got as far as the 18 posts before switching gears to work on another site.
But 300 sessions on a site this new, and with so little content, I think gives you a glimpse of the power of topic clusters.
If you've been in this industry long enough to remember micro-niche sites, then you get the idea of the kind of power that I'm talking about.
And, my last example is adding a topic cluster to an existing site of mine that was experiencing a growth plateau.

For this site, I identified a topic cluster that would max out at just 55 articles, so I got those articles published as quickly as I could earlier this year.
As you can see, the site's traffic started increasing shortly thereafter.
And you know what? Posts from this cluster are now the top posts for this site.
I also have an existing site where implementing a topic cluster strategy more than doubled the traffic from 50K/monthly sessions to 110K/monthly sessions, but I can't be arsed to take another screenshot.
Madness, eh?
So, don't sleep on this strategy. If you do, it is at your own peril.
And yes, I have a course on topic clusters and I'd love to teach you how to do this with your own sites.
Save $30 on my topic clusters course with code: SAVE$30 — buy course here —
Or hey, if you've got more time than money, which I totally respect, you can likely piece together enough info by reading a variety of sources to cobble a strategy together.
Think about it – with topic clusters and an aged domain from Odys (this link gets you a 100 USD/EUR welcome bonus), you'll be unstoppable in your niche.
Thank me later.
Hey, I'm Shawna. I make a living working from my laptop in places like London, Sydney, Dubai, Rome, Oslo, Bangkok, Las Vegas, Barcelona, and Amsterdam. I share how I do some of that on this website.