If you're like me, then you've signed up for the mailing list of several SEO bloggers and you listen to podcasts on SEO, etc. Also like me, you'll probably noticed the trend of everyone and their brother trying to get you to sign up for Ezoic.
You truly cannot escape it.
I've been watching this recent trend with some humor as Ezoic first came onto my radar well over a year ago….when no gurus were trying to convince you to sign up for it. I assume Ezoic did some sort of influencer campaign for all these gurus to be so sweet on them.
And I've been using Ezoic on one of my sites before all the gurus jumped on the bandwagon. So, I want to give you my honest opinion on it and share my experience.
This post contains some affiliate links to products that I use. If you click through and make a purchase, I'll earn a commission, at no additional cost to you. Read my full disclosure here.
What Is Ezoic & Why You Might Want To Sign Up
If you're not familiar with it yet, Ezoic is just an ad platform that lets you arrange and split test ads from online advertisers on your site.
I think they're probably gaining some popularity because their requirements are not as strict as Mediavine and AdThrive.
Ezoic requirements:
Google AdSense approved site
10,000 monthly sessions to the site in Google Analytics
When they first contacted me back in 2015 via one of my niche sites, it was because they noticed that I was running AdSense ads on my site.
The ad rep told me that they could significantly boost my ad income. I was a bit skeptical at the time, especially since when I did a search for reviews there weren't many people singing their praises (like there is now).
So, I totally blew them off.
Fast forward to 2017 and they contacted me again, via a different site of mine, and I exchanged some emails and ultimately declined to use their service. The rep gave me serious attitude, and I almost didn't respond when a different rep contacted me in 2018 (via yet a different site of mine).
But I did respond because the traffic on this particular site of mine was at 300K+ visits per month and I'd been declined by Mediavine. Also, because my AdSense income for this amount of traffic was just tragic.
I'd been working super hard on growing the traffic to get into Mediavine or AdThrive, so when I got rejected by the first one I just assumed the second result would be a waste of time as well.
Enter Ezoic.
When you sign up for Ezoic, it takes a bit of time for their system to optimize the ads on your site. So, the income fluctuates a bit from day to day before it finally settles into a decent EPMV (that's their version of RPM).
For me, I was able to see a noticeable improvement in ad income pretty much immediately for my site.
And this was despite the fact that I slipped a spot for my top keyword, so my traffic dipped a teensy bit.
My first month at Ezoic wasn't even for the full month. My ads went live about 10 days into the month, and the results blew AdSense out of the water.
The percentage income increase that I've seen since using Ezoic on my site has been pretty consistent.
Even when my site got hit by one of the algo updates…and then another….and finally the most recent one….to where my traffic is now only around 40K per month…my ad income is STILL higher than when I was getting 300K+ monthly with AdSense ads.
Potential Pitfalls & Things I Don't Like About Ezoic
Obviously when you put any ads on your site, it slows them down. And Ezoic is no different.
They say that your site speed will be better if you use their DNS integration instead of their WordPress plugin.
I don't know about you, but I don't really want my site linked to any service at the DNS level.
So, yeah, the shit is slow. My most popular post on my Ezoic site is image heavy, so without any speed optimization that sucker was taking over 25 seconds to load with Ezoic ads enabled.
What's weird is that it didn't start with a jump to 25 seconds…it was more of a slow creep to that time over a few months. No idea why because nothing else changed.
On a side note here, my site experienced a significant drop in traffic/rankings after a few months using Ezoic – complete with warnings in Google Search Console about slow site speed. The site had been holding steady for more than a year, so I kinda wonder if Ezoic was the cause of that…since there were no updates at the time. Maybe, maybe not – who's to know for sure!
Needless to say, I've since invested in WP Rocket + Stackpath CDN to control my site speed issues.
But wait! Ezoic is all set to ride in on a white horse like your fucking knight in shining armor!
A knight there to slay those page speed issues…or something sorta like that, maybe?
The Speed Money Grab
They have a new speed optimization plugin you can find in your Ezoic apps dashboard as of December 2019. No, silly, it's not the same as the one you've been using for months now.
It's different!
It's got new features!
I mean, it looks the same, except now there's note that you have to pay for new features.
But it's different!

Let that sink in — You have to pay to use it now.
What the actual fuck? This is some some pay to play bullshit* (*don't worry, there's more about this pay to play stuff later).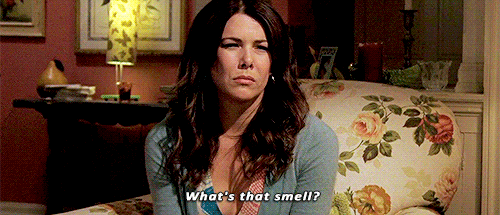 I know the Ezoic social media team are everywhere online, so before I get a comment here, yes, I know that you can still use the old features at no charge and it's only the "new features" that have a subscription fee.
Though, I have to wonder if that's really true for new users signing up with Ezoic. Cause the pricing page makes it look like you have to pay for the site speed accelerator. (and what even are the new features?)
I only see the site speed accelerator listed by itself…not as a core feature or ad-supported feature. So, not sure if new people are required to pay for the features that used to be free (and still are for me) or not.
You'll notice in that image that it says that the cost of the site speed accelerator is based on traffic. I'll show you the prices that I see in my dashboard.
You'll notice that my rates show that a 30% "Premium" discount is applied. We'll get to what this "Premium" stuff is all about in a moment.
Anyways, as you can see the prices aren't all that cheap. In fact, if you wanted to pay for a setup like I currently use for page speed optimization, you're looking at:
$49/year for a one-site license for WP Rocket
$10/month for Stackpath CDN
I also tested Nitropack in December and compared it to my
WP Rocket
+ Stackpath combo. I ended up getting a refund on Nitropack. While it did improve my page speed times, it did so by making the initial above the fold stuff look all funky for the initial few load seconds….and the ads loaded way after everything else compared to my current setup.
I don't ever really see myself paying for the speed accelerator new features from Ezoic. My current setup is working just fine.
Ads Look A Bit Spammy Sometimes
Sometimes you land on a webpage and the ads that are on it are truly enough to make you leave the site. At least I experience that sometimes.
Maybe you don't.
Or maybe you'd go on a tech site (mine) and see the ad below and bolt.
Yup, I just took that screenshot on my site – from an incognito window, so no, I've haven't been looking up earwax.
That same page has a few other ads showing that look a bit junky. Here's a collage of the spammiest ones I saw today (still from an incognito window).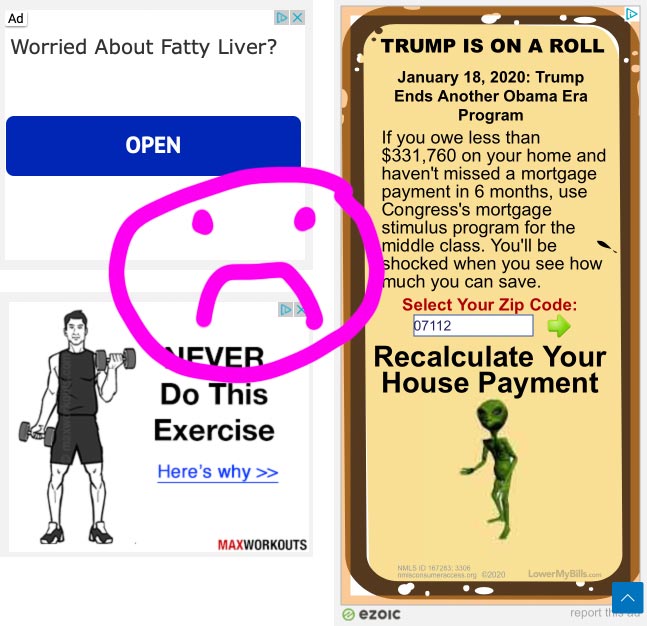 That being said, not all of the ads look spammy. Otherwise, I wouldn't still be using Ezoic on my site.
In fact, when I look at the same page on my site when I'm not in an incognito window, all of the ads are relevant to me and for things like Semrush, Hulu, Thalys trains and a Pinterest course.
Since most of my traffic to the site comes from organic search first-time visitors, I have no idea how many of them are seeing the spammy ads versus things that are relevant to them.
Anyways, I have a site that meets the qualifications for Ezoic but hasn't yet reached the requirements for Mediavine. I really care about the quality of this particular site, so I'm not using Ezoic on it purely because of the sometimes spammy ads.
The Premium Ads Money Grab
This is probably my biggest gripe about Ezoic. A couple of months ago, I got an email from my account manager at Ezoic letting me know that I'm invited to join a special invite-only program.

Let's take a moment to applaud them for those psychology tactics that they're employing here.
Scarcity marketing, making you feel like part of an exclusive group – really rolling out the red carpet for psychological manipulation here.
Back on topic …
A few days later, I got another email reminding me how limited this program is and how limited the window is for me to eagerly sign up.
At least they give you a 14-day free trial, though, right?
So, here's the thing with Ezoic Premium. You have to pay for access to the higher paying ads. That's fucked, right?
How much do you have to pay? That seems to depend on your traffic. You do get told up front how much it will cost you – because there are three levels to Ezoic premium and you have to pick a level.
I wish I'd thought to take a screenshot of it, but alas here we are and all I can I find mentioning the different levels is the conversation below from Reddit:

Here's what I can tell you about my experience with Ezoic premium. I've been part of it for just over two months now, including the two-week trial period.
My monthly cost is $58 for the plan that I selected. I have to pay that via credit card on the same date each month before the ads run for the next 30 days. They don't let you pay for it from the earnings you have accrued, which is lame.
So, basically you pay in advance for the privilege of getting higher paying ads on your site.
Oh, and if you opt for the yearly payment plan, then you get a 20% discount. But, if you want to break the commitment before your year is up, there may be a penalty fee and stuff…or so the story goes.
For the first month that I paid for premium, I actually did okay. I paid $58 to profit an additional $17.01.
When that second payment hit my credit card, I still wasn't happy with the fact that I was paying for access to the higher paying ads.
And does that mean that when you're not paying that Ezoic is just pocketing more money? I just don't know, but this just doesn't feel right, y'know.
And yeah, I get that they are providing a service that isn't free…but all this money grab nonsense is tiring.
My second full month on Ezoic premium doesn't end for another week. Based on what I'm seeing right now when I calculate my daily RPM, my premium earnings will just be around $61.
Giving me a profit of $2.00.
But wait…if I wasn't in the premium program those ad spots would still be filled with regular ads…. so I'm either breaking even or, more realistically, experiencing a profit loss this month.
Obviously, we're now in Q1 when ad revenue is at its lowest of the year, so some drop is expected.
But here's where I'm concerned….
What if my site traffic drops to the point where the monthly premium fee costs me more than the premium ads bring in?
My site already has seem some rollercoaster ups and downs with the core algo update that has been rolling out this week.
Supposedly my fee will adjust itself. But I assume that means I won't get a credit for the month and that it will just change going forward….assuming it works as designed, but reviews I've seen leads me to not expect that.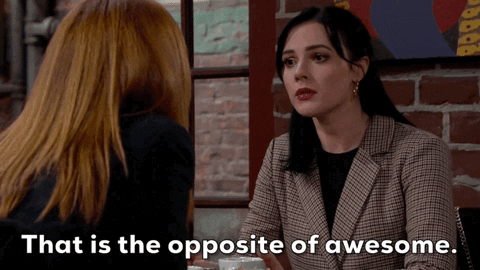 As I mentioned earlier, it's hard to find out what other people really think about this sort of thing.
Though the post wasn't live when I was doing my initial research for myself, the FatStacks blog now has a review of the premium ads. He seems mostly positive on it, but you should read it if you're considering going premium.
There are some interesting user comments on the other Ezoic review on FatStacks that I think are worth highlighting here.
As I mentioned, I'm only a week away from completing my second month in Ezoic premium, so the verdict on it is still out from me.
But I can tell you that I don't like having to pay to play, so to speak, to have access to the premium advertisers.
My Takeaway
It took me a really, really long time to decide to sign up with Ezoic for one of my sites. As I mentioned earlier, they first contacted me back in 2015 and I didn't sign up with them until 2019.
Part of the reason that it took me so long to test them out is because as an affiliate marketer, I could tell that all of the reviews that I was reading about the service were bullshit. And no wonder, their affiliate program gives you a percentage of LIFETIME earnings of the people who sign up under you.
So, a few thoughts on that real quick –
this is why all the gurus are promoting Ezoic so hard
I'd prefer higher ad revenue without paying for it instead of an affiliate program
Anyways, it seems that I'm not the only person who's noticed how difficult it is to find even a slightly critical review of Ezoic. The screenshot below is from Reddit –
In all fairness, I should note that Anne at yeys.com uses Ezoic on her sites and has no complaints. I even asked her why she wasn't using Mediavine for her higher traffic sites.
All things considered, there is really only one thing that matters in the end when it comes to Ezoic.
Did Ezoic increase my ad revenue? Yes, yes it did.
And here's the thing, even with my site loosing a fuckton of traffic since signing up with them, I'm still making more with Ezoic right now than I was when my site was seeing 200K+ visits per month with AdSense.
In the Ezoic vs AdSense war, Ezoic is clearly the winner.
At this point, there's no reason for me to leave Ezoic until their ads earn me less than AdSense did….unless I can qualify for Mediavine (but I already told you they rejected me once).
So, even though the money grabs make my blood boil, it's all about that money so I'm still using them…unless this review/rant burns that bridge.
If you're considering adding Ezoic to your site, then I hope my honest review here of my experience with them helps you decide if they're right for you. And if you have used Ezoic, feel free to share your thoughts in the comments.
And since I'm really just an affiliate marketer with no shame, here's my affiliate link.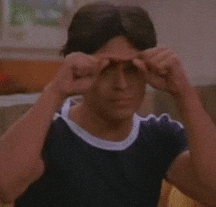 Hey, I'm Shawna. I make a living working from my laptop in places like London, Sydney, Dubai, Rome, Oslo, Bangkok, Las Vegas, Barcelona, and Amsterdam. I share how I do some of that on this website.