What happens when you can't (yet) get back the featured snipped for your site? Also, what happens when you do absolutely nothing to a site for six months? Would you expect a site with only dodgy PBN links to outrank (and out-earn) a white hat-ish site? That's the gist of what this update will cover, with a few other things added in. So, let's dive right in!
What's Been Going On Since The Last Update?
Despite having big productivity goals for the month of June, I actually went on a three-week road trip to check out some national parks here in the US. Then, when I got home, I decided to leave again for a concert in Phoenix. Needless to say, I didn't have many days where I could actually sit at the computer to get some work done! But, I did see some pretty cool stuff on my trip – the Grand Canyon, the Badlands nat park (see photo above), Rocky Mtn nat park, Mesa Verde nat park, old west town of Deadwood, Mount Rushmore (it was actually sorta lame), Yellowstone, and even took a side trip up to Canada for a concert at the Saskatoon Jazz Festival! I also got a chance to have coffee with Doug Cunnington of Niche Site Project while I was in Bozeman, Montana.
Here's a good photo to sum up the sights that I saw on the road trip:
And the last time I mentioned doing some traveling, I had a commenter who basically didn't believe that I was actually traveling since I didn't have any photos of myself in the post. Well, guest what doubters? I took some fucking photos just for you guys this time!
So, there ya go. And yes, it was balls cold most of the places we visited (especially after leaving the 100+F temps in Vegas). But it was a fun time and if you're in the US (or planning a visit), I definitely recommend that you check out some of our national parks. Personally, the Badlands was my favorite national park not only that I visited on the trip, but of all time. And yes, the Grand Canyon really is as impressive in-person as it looks in photos. And, if you visit Rocky Mountain National Park, you can enter through the town of Estes Park, which just happens to be the home of the Stanley Hotel! (it's the on the The Shining movie)
Anyways, I did pretty much zero work last month, except for the first week of the month (a few blog posts and that's it). And hey, how many jobs are there where you can earn $15K while you're on a 3-week vacation? If you're not building any authority niche sites yet, then I hope this convinces you to start!
Case Study Sites Status
Other than adding a few blog posts from my writers, the case study sites were pretty much on autopilot this month. The cool thing about niche sites is that you can do zero work on them in a month and still earn some coin. Most of the time, your earnings stay the same or increase. Sometimes though there are other things at play that cause a slight dip in earnings during those periods.
Site #1: 
Number of posts live as of Jun 30 = 67 posts
Number of posts added since May 31st = 3
Niche: seasonal
Number of keywords per SEMrush: 3.3K
Backlinks: mixture of blog comments, web 2.0s, natural/editorial/guest post, and my PBNs
Content: mixture of outsourced and written by me
Income status: profitable
Site #2:
Number of posts live as of Jun 30 = 52 posts
Number of posts added since May 31 = zero
Niche: evergreen
Backlinks: mixture of editorial, guest posts, scholarship, and web 2.0s
Number of keywords per SEMrush: 3.8K
Content: 100% outsourced
Income status: profitable as of Feb. 28, 2017
As you can see in the SEMrush image for site #1, losing that featured snippet traffic finally settled me into a depressing low just barely better than Jan 2017's numbers. It sucks, but it is what it is and I know that I sacrificed working on the site to take my three week vacation. Site #2 is also at a low similar to January 2017's numbers. Now this, I am not surprised by because all of my past testing has shown me at once a site is stale for six months, you see a dip in traffic due to the Freshness Factor that's part of the algorithm. Apparently that still remains true since it is the six month mark of me leaving that site sitting.
What this really shows you is that even someone who knows what they're doing can experience some setbacks with their sites. So, if you're going through something similar with your sites, then don't worry! You'll get it turned around, just like I will 🙂
For those of you who are data geeks and wanna see the analytics for the two case study sites —
Site #1:
Site #2: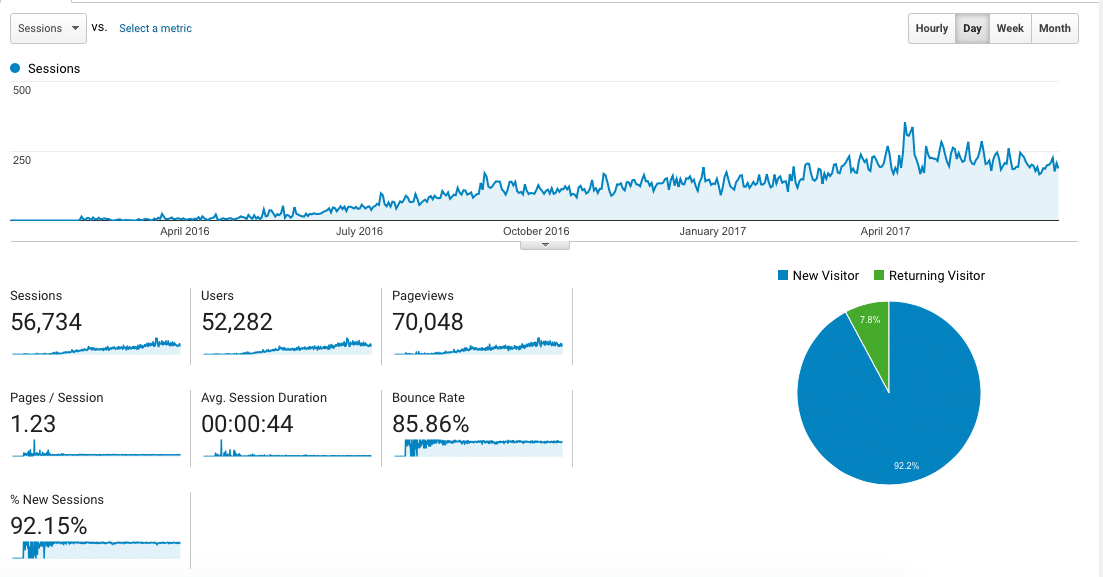 I do want to point out that I've been testing making changes on my post for site #1 that lost the featured snippet. I've done things like make changes to my table + add in more targeted keywords and content. So far, none of that has worked, so I've just went in and added a bunch of relevant videos from YouTube to the post and hoping that makes some sort of difference. If not, I'll be focusing on getting more links to the post. Why this? Because when I analyze the site that is now in the featured snippet (plus some of the other sites that have overtaken me on page one) they all have WAY more links to their posts than I do.
Case Study Sites Income
Don't really have anything enlightening to say about the income. Hopefully with the work that I have planned, I'll start to see the income get back on the upward trend. Scratch I that, I know it will start to rise as soon as I get to work on it.
Case Study Site #1 Income
April 2016: $14.19
May: $22.07
June: $185.11
July: $273.17
August: $390.37
September: $260.14
October: $339.17
November: $608.91
December: $1,266.01
January 2017: $532.15
February: $929.63
March: $876.39
April: $677.53
May: $684.64
June: $662.35
Case Study Site #2 Income
March 2016: $0.02
April: $1.77
May: $2.26
June: $75.42
July: $156.37
August: $199.14
September: $196.08
October: $186.60
November: $371.08
December: $673.09
January 2017: $414.32
February: $342.79
March: $338.36
April: $329.70
May: $379.74
June: $285.57 (ouch)
Yes, the income is down for both sites. So, what do you do when that happens? You pull data from your favorite tool to determine where you dropped in the rankings, and you update those posts with more content. And, you start adding new content to your site.
What's To Come With This Case Study?
My top priority right now is still site #1 because I want to be able to sell it once I reach my income goals with it. As of June 30th, the site had just 25 money posts, so I've given myself a challenge to get that number up to at least 50 money posts within three months (though I'm secretly hustling to do it in less!). Doubling the number of money posts won't double the income, but it should give me a nice boost, and have me ranking for lots more keywords just in time for the Christmas shopping season.
I also have to start working on site #2 again since it seems to have gotten dinged by the Freshness factor in the algorithm. I'd really rather not work on it right now since I have other sites in my portfolio that I'd prefer to work on, but it's what needs my attention this month.
Quick Note About Some Other Case Studies
In the Insider25 Facebook group (now exclusively part of my course), I discuss other things that I'm testing at any given moment. One of those things is something that I'm calling the "Dodgy PBN Links" test. Here's the rundown on what I'm testing:
brand new domain being used as a Top 10 site (Amazon affiliate monetization)
using dodgy PBN links (from shady sellers + some old ones I had when I first started doing PBNs)
regular dripping of these dodgy links
occasional use of another dodgy link type (i.e. sponsorship/donation page links)
It is with much frustration and delight that I can announce that this one-year-old site is earning more than both case study sites combined! It made almost $1200 last month and is on track for ~$1800 this month.
Note: I don't suggest you try this with your money sites that you want to keep cause this test site is just waiting for a Google penalty.
I'm also going to be starting a brand new case study site with my students soon. So, if you're interested in seeing that from the ground up, make sure you keep an eye out for my course re-opening announcement. Cause that will be happening soon!
Previous updates to this case study:
Hey, I'm Shawna. I make a living working from my laptop in places like London, Sydney, Dubai, Rome, Oslo, Bangkok, Las Vegas, Barcelona, and Amsterdam. I share how I do some of that on this website.