You know that feeling you get when you try something new and you're excited to share it because everything is going well.
I love that feeling.
Especially when I'm doing case studies.
But alas, that is not a feeling I was meant to have with this little project.
At least, not yet.
So, let's dive into the details of this dumpster fire I'm dealing with.
And if you forgot how this one started, here's the first post about this case study.
What's Happened Since The Last Update
Just three days after getting delivery of the site, I got an email from Adam at Niche Website Builders sharing the keywords they're tracking for the site.
I was stoked cause it was looking good.
The very next day brought on more good news with the rankings.
The day after that screenshot above, I went ahead and replaced Yoast with RankMath…because I fucking hate Yoast.
Fast forward a five days and it was fucking carnage in that keyword tracker (SerpRobot, for those of you curious).
WTF happened?
Adam at NWB wondered if it could be the change from Yoast to RankMath, so we reverted back to Yoast a week later.
Cause really, what else could it be since things were going so well?
Maybe an unconfirmed Google update?
Sadly, the timing fits 100% here…but I decided to wait it out and see if the Yoast vs RankMath switcheroo would fix things.
Three weeks go by while I wait to see if this site, which looked so promising at the start, will rebound to its former (yet fleeting) glory.
Unfortunately, not much changed during that waiting period.
Every so often an article would pop with a ranking, only to lose it the very next day.
Here's what SerpRobot is showing me today –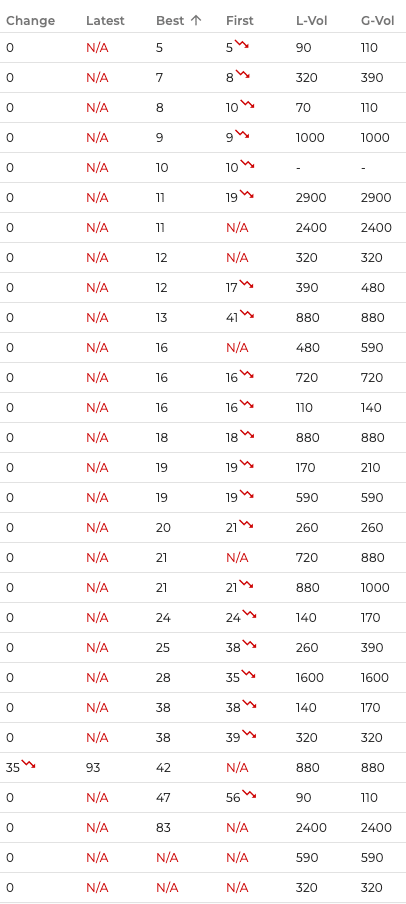 Yeah, that's not too pretty, is it?
So, now what? That's the natural question here, right?
Current Thoughts & Looking Forward
It's safe to say, that so far, this case study has spectacularly blown up in my face.
While I hate that this is the current status of things, at the same time, it's not the end of the world.
And, it's turned itself into a great teaching moment. Though I do feel bad that this is making NWB look bad, which isn't the case at all.
This is exactly how buying aged domains can go wrong.
I've bought domains on my own and had this exact shit happen, so it's just the risk of aged domains.
Though I am surprised that it has happened with this particular domain as it looks quite clean and we stayed in the niche with the rebuild.
At this point, the worst case scenario here is having to abandon this domain for a new one — but we're not at that point just yet.
I'm trying a few things to resurrect the domain in the SERPs, and if all of those things fail, then it will be time to find a new domain for the content.
So, at this point there are several things that could be the problem here –
it's a bad domain
there is a problem with the content
the site got caught up in an algo filter (remember the unconfirmed update?)
something else is going on that I haven't yet thought of
I've spent way too much time in Search Console looking for potential issues.
All pages are indexed, no manual penalty, etc.
What is curious though is when I do site:domain.com in Google, only a handful of posts show up when there are 50+ live and indexed posts on the site (I manually verified that every single one is indexed).
Adam at NWB did catch this potential issue that I'd somehow missed in Search Console –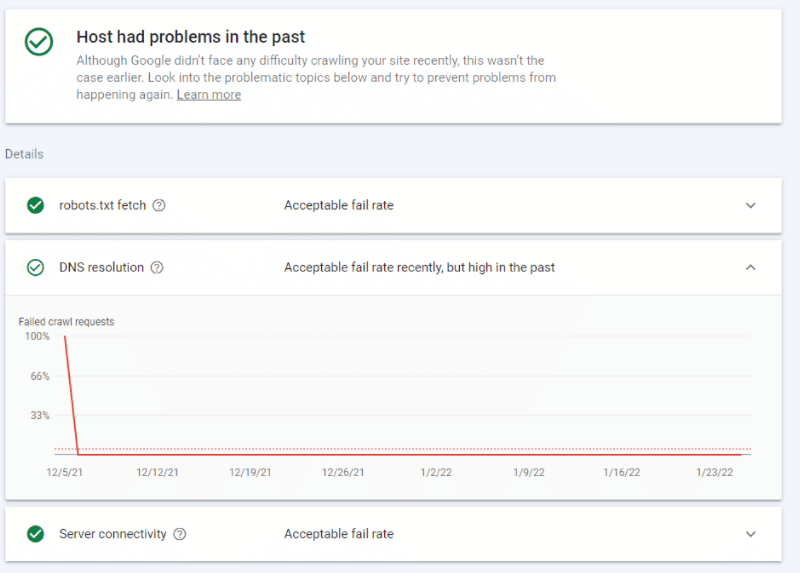 Of course, this date is well before the site fell out of the SERPs, so I think it's quite a slim chance that this is the problem.
I mean, after this date the site was ranking well on page one.
But, just in case….I changed the DNS for this site to Cloudflare.
In the past, I've had success reviving a seemingly dead site with social signals, so I'm currently testing that as a way to give this site life.
That means that right now I'm still just in this waiting place.
Waiting to see if anything changes, or if I need to continue looking for possible solutions to unknown problems.
If you've experienced something similar with a site, then I'd love to know how it worked out for you!
Hey, I'm Shawna. I make a living working from my laptop in places like London, Sydney, Dubai, Rome, Oslo, Bangkok, Las Vegas, Barcelona, and Amsterdam. I share how I do some of that on this website.