Another month and another freaking algo update.
I mentioned last month that I'm getting tired of this niche, and that is still true.
We'll get into that more in a bit + what I'm doing to counteract that.
If this is your first time here, then I suggest catching up on the old updates first:
Ready? Okay, let's dive in!
**And as always, I'm an affiliate marketer and this post probably contains affiliate links, meaning I will be compensated if you make a purchase after clicking on my links
Month 15 – What Happened?
This update covers the period of November 20th – December 19th, which means another fucking algorithm update started during this period.
And this site saw some shakeups in the SERPs.
The big thing was a loss of some featured snippets.
For some queries, Google just completed removed snippets for that search.
For others, Google gave the snippet to a mega authority site that didn't really meet intent (like Quora).
You can see this resulted in a drop of around 3,000 monthly sessions.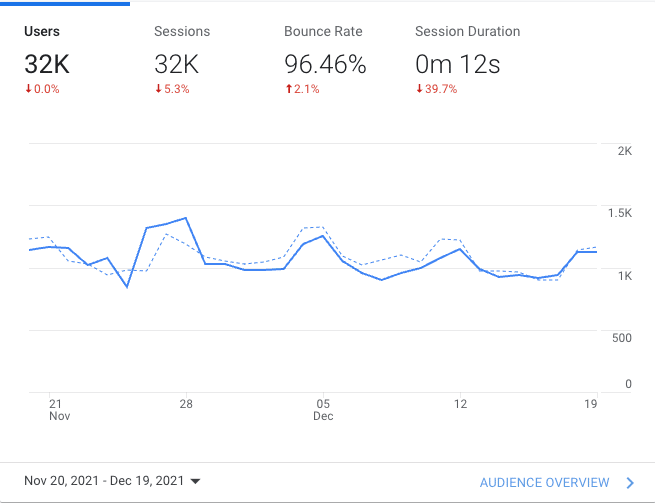 Right now I'm not really concerned about this because it's the same story every year – an update around the holidays that favors mega authorities and then a reversal of that after the new year.
For me, the biggest downside of this update is that it changed what the top posts are for the site, which will likely affect the income going forward due to lower RPMs on the content that is currently the top content.
Spoiler alert: income didn't drop this period, but I am concerned about the current income.
Definitely a terrible time for this to happen.
This did motivate me to get back on the content creation train for this site instead of just waiting for the money content from Niche Website Builders (discount here).
I actually didn't get any content from Niche Website Builders during this period because they still seem to be a bit behind (three drafts were uploaded by them on the last day of this period), so the new content was a mixture outsourced content and content written by me.
And for those of you who like to see the email that I get from Ahrefs with new keywords from the site –
So, it looks a little better than the last update, but that may be simply due to the fresh content that was added to the site.
Overall, content for this site is still ranking fast and well, and honestly, I should not have stopped the content push last month.
This is all on me because I'm tired of this niche and the traffic dip from the algo update is a bit demotivating when I have other sites that got a boost from the update.
If you are considering creating and managing multiple sites, then you should know that this is something that I struggle with.
It's always easier to work on sites that are surging in the right direction and just drop a site going in the wrong direction until things pick back up.
This is one of those things that I try to avoid falling victim to, but it is definitely a challenge.
To counter act this going forward, I plan on hiring a dedicated writer (or two) for this site after the holidays.
Right now I'm thinking that I will hire someone to do 30 articles for this site each month, but that will depend on the rate that I have to pay the writer.
As I mentioned in the last update, this site got linked in a new story that went viral and a lot of amazing links started rolling in.
That continued during this 30-day period as well.
It's currently just over 100 referring domains pointed at this site from this natural link.
What's interesting is that this site clearly is not seeing the benefit of all those awesome links.
Why the fuck? Right?
As I mentioned in the last update, I've actually seen this happen once before when a site of mine had a similar thing happen a few years ago.
That site gots lots of great high DR links and not only did that site not explode in traffic, but it actually declined in traffic.
It was almost like Google demoted the site as if the link building was unnatural, yet there was no penalty in Search Console.
The worst thing about that whole scenario was that the power of all those links didn't kick in for a full year on that site.
So, I really hope the same scenario isn't playing out again on this site with the explosion of natural links that it got.
If it is, hopefully a regular content push each month will counteract it.
Month 15 Summary & Thoughts
While I'm glad that I got back on the fresh content creation for this site, I'm not happy that the algo update resulted in a small traffic decline.
But, all you can do is keep hustling and getting content up.
So, that's what I'm doing.
Here's how the last 30 days of this site looked:
Traffic: 32K sessions (approximately)
New Published Posts: 20
Total spent this month: $10 for hosting +$700 for another month of NWB + $531.46 on outsourced content ($21,685.78 to date)
Per article average cost of outsourced content: $48.31 this month
Total published words to date: 497,765
Average word count per article (all): 1,177
Income: $928.74 this month ($5,963.60 to date)
Links built: 0
New natural links: 34
Initial Budget Remaining: $0 (I'm over-budget)
Now, the last 6 months of revenue is an average of $757.37, making a list price at a 35x multiple result in a sales price of around $26,506.
Still not interested in selling the site right now, but it's nice to see that I could make all my money spent back with a teensy amount of profit if I did sell now.
But the goal isn't a teensy profit, right?
Questions?
Did you miss how this case study started? Get caught up from the beginning here.
Hey, I'm Shawna. I make a living working from my laptop in places like London, Sydney, Dubai, Rome, Oslo, Bangkok, Las Vegas, Barcelona, and Amsterdam. I share how I do some of that on this website.