Another month in the books and things have picked back up a bit.
I made a big content push that should start to show rewards in the next three to six weeks.
If this is your first time here, the I suggest catching up on the old updates first:
I'm feeling pretty good with how it's going with the site, so let's dive in!
**And as always, I'm an affiliate marketer and this post probably contains affiliate links, meaning I will be compensated if you make a purchase after clicking on my links
Month 8 – What Happened?
So, the eighth month of this site closed around 10 days ago. And I think it's still going well.
Could it be going better? Always.
You'll notice that traffic sessions are on the rise, which I'm focused on for Mediavine.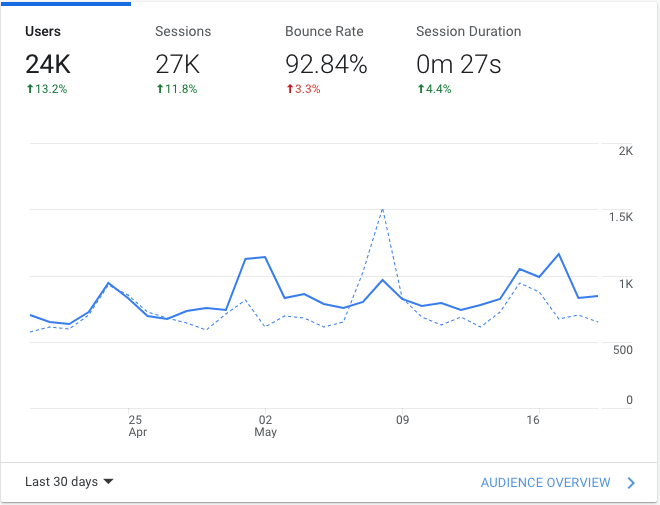 So that's around 3K more sessions that the previous 30 days, which is a big win.
Here's what my weekly report from Ahrefs looks like for the site: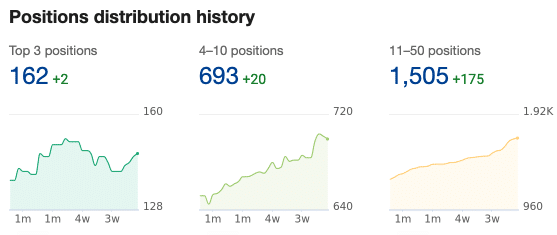 Things have been going well with new content getting indexed and keywords showing up in Ahrefs.
This site is still monetized with Ezoic and a couple of Amazon links.
I've been testing some private affiliate program links on the site, but nothing exciting to report there.
Since the last update, this site earned $297.54 (in March 2021).
So, that's a teensy increase over the previous month.
I'm certainly not happy about it not being a larger increase.
This income came from:
Amazon
Other affiliate program
My Ezoic ePMV has increased by almost a full dollar. So, that's looking good.
In regards to backlinks, I just want to remind you that I'm not planning on doing any link building for this site anytime in the near future.
That's the whole reason for buying an aged domain from Odys.
Month Eight Summary & Thoughts
I had a lot of credits to use and ended up getting 67 new articles up on this site during this period.
Some of those articles target really easy keywords that are already ranking on page one, and the others I expect to see ranking in coming months.
Needless to say, I'm excited about the big content push I've made.
Here's how the last 30 days of this site looked:
Traffic: 27K sessions (approximately)
New Published Posts: 67 (all outsourced)
Total spent this month: $10 for hosting and $4,071.25 for content ($11,058.70 to date)
Per article average cost of outsourced content: $60.76 this month ($49.20 to date)
Total published words to date: 283,914 (I think I've been forgetting to update this number here)
Average word count per article (all): 1,220
Income: $297.54 this month ($1,022.58 to date)
Links built: 0
New natural links: 1
Initial Budget Remaining: $0 (I'm over-budget)
This site clearly crossed the 200 live posts goal, so I'm really hustling to reach 300 live posts as my next goal.
Still on the list of things to do: Pinterest + Facebook page/group.
I haven't mentioned it before, but I'm thinking of creating a Facebook group to go with this site since it can serve as a traffic source.
I'm also considering starting to collect emails…just as soon as I decide on a lead magnet to entice those signups.
Looking ahead to the next update, I'm hoping to see a good boost in income and traffic.
I think I'll definitely see the income boost since we'll be at the last month of the quarter (always higher RPMs for ads), but I don't know if the new content will have aged enough to make much of a difference in terms of traffic.
Ideally, I'll hit that magic number of 50K sessions by the time this site is a year old.
Questions?
Did you miss how this case study started? Get caught up from the beginning here.
Hey, I'm Shawna. I make a living working from my laptop in places like London, Sydney, Dubai, Rome, Oslo, Bangkok, Las Vegas, Barcelona, and Amsterdam. I share how I do some of that on this website.