Well, it's been a minute since I posted one of these updates, eh?
As you can likely tell, writing these up monthly has become a rather boring task for me.
They're not that interesting for me to write, and I have a hard time believing most people find them interesting to read.
Let's face it – I neglect most of these sites to work on others in my portfolio and you end up not really getting any actionable advice.
With that in mind, I think I will start doing something differently with my case study updates in the future.
And who knows, maybe I'll just do a yearly update on these particular sites – haven't really decided yet.
What I have decided is to focus on more interesting case studies that have more actionable tips you can replicate.
Anyways…
Remember, the sites in this report are only a portion of my portfolio and not the only sites that bring in revenue.
**And as always, I'm an affiliate marketer and this post contains affiliate links, meaning I will be compensated if you make a purchase after clicking on my link.
What Happened
Honestly, I'd be lying if I could tell you what happened with these sites for the most part.
Things were going well in April and then in May one of the sites in this report got hit by the core update (and has yet to recover).
So, for May and June I did pretty much nothing except try to determine wtf was going on with that one site that got hit cause it is a super clean site.
I also did some traveling in June and zero work while I was away.
The Sites – April, May, and June Update
Site #1
It's gone from my portfolio.
So, no more updates on this one.
Site #2
This site has continued to do well, which I'm thankful for as I've been making a HUGE content push on this one to capitalize on it being favored by Google.
Don't let that huge spike at the end of June fool you though – it's just referral spam.
Between April and June, this site saw almost 200 new posts published, which I'm really excited about.
My goal is to get it up to 500 live posts as soon as possible because I think once I hit that amount of live posts that I can expect this site to be earning around $5,000/mo by the year's end.
If you're curious about that math, it looks a lot like this –
And I'm counting on Q4 RPMs to be higher than the $30 you see in that tweet above for me to hit that magical $5,000 revenue amount.
Since this site survived the May core update, I see no reason why I won't hit that revenue goal…assuming that I continue to get new content published.
Only around 100 more posts until I reach that milestone!
The only possible issue I see with this plan right now is that those ~200 posts that were published in the last 90 days were based on keyword research that was done before the core update and it's possible that there was an intent change or something similar making them not as easy for me to rank.
But, I haven't looked into that yet and am just hoping that things are still on schedule.
Income for this site has grown every month, with June coming in just shy of $1500 for the month.
Site #3
This is one of three of the sites in my portfolio that took a beating from the May core update.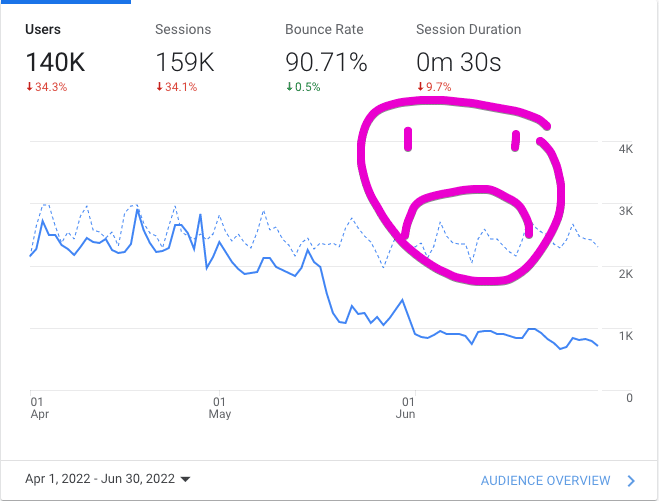 While this one did not take the worst beating of the three, the other two sites were small sites  – one was a test site and one was just an older neglected site that has gotten hit in previous updates.
Needless to say, this one getting hit was devastating because this is one of those sites where I've done everything "right" and it just doesn't make good sense.
I'm confident that it will return to its former glory eventually though.
Now, what's interesting to me about the analytics screenshot above is that the drop for this site really started on April 29th.
I don't have any insights about that, but do find it curious.
The good news is that the freefall in traffic and rankings does seem to have stopped and a few rankings have started reappearing in recent days.
Income was on the rise in April, and then began falling with my traffic and rankings to just under $1,600 last month.
Yup, the algo hit is a costly one for this site – last June this site made over $5K.
But, that's just the way that it goes sometimes. Honestly, I think things would look worse if I hadn't already worked on some traffic diversification with social and such.
Shame that I didn't do more though!
Site #4
Despite my love for this site, I still haven't done much with it.
Though, in April I did start buying some products to do real reviews on for it.
I have the pictures taken but have not yet gotten around to writing the content since I was preoccupied with that stupid algo update.
While this site did not take a beating from the algo update, it did drop a few spots for some keywords.
I also kinda think the neglect might be at play here as freshness may be a factor in this niche.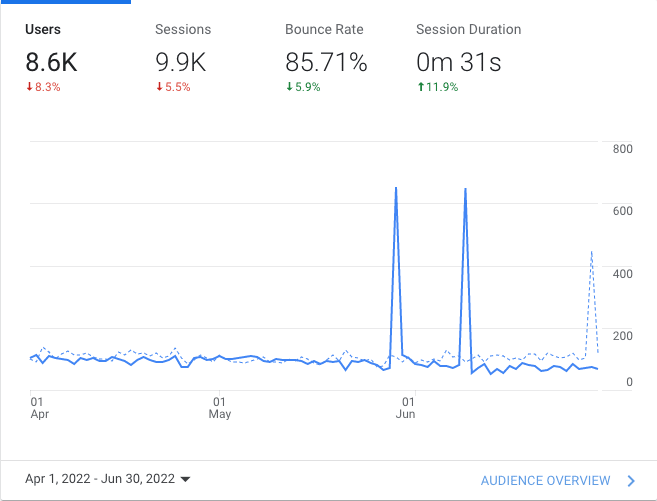 And yes, the two crazy spikes you see are more referral spam nonsense making the data all janky.
In terms of revenue, in April it dropped by half, then rebounded back to where it was in May, and then dropped by half again in June.
But this site was only at ~$30 to begin with so this doesn't really matter at all.
In terms of content, this site is sitting at around 50 posts published right now, which is sad but that's the truth.
The reality is that I have too many sites demanding my attention right now and I may need to sell some of the smaller ones to free up more time to focus on sites like this one.
New Expenses
Though this report covers three months, I actually didn't spend much on these sites.
The only content expense was $4,000 at My Content Pal for site #2 (in April) and site #3 (right before the algo update hit).
I'll likely continue using My Content Pal for my content needs going forward as they do excellent work.
The content from them on site #2 already has page one rankings, while the content for the algo hit site has zero rankings.
Of course, that's not due to the content but the stupid algo hit.
Final Thoughts & Summary
As you can see, there wasn't much to report for the last three months of these sites….which showcases how boring these updates have gotten for both of us.
If something meaningful happens with these sites that I can share, then I will do another update.
But for now, this is the last one for these sites.
Looking forward, I'm working on sharing the results of an experiment using 11 aged domains from GoDaddy auctions in the coffee niche.
I've got some other interesting stuff cooking in the background as well.
Hey, I'm Shawna. I make a living working from my laptop in places like London, Sydney, Dubai, Rome, Oslo, Bangkok, Las Vegas, Barcelona, and Amsterdam. I share how I do some of that on this website.