Sometimes you can do everything the "right" way with your sites, just for a Google update to roll out and crush your site. And sometimes you do everything the "wrong" way, and you actually get rewarded when a Google algo update rolls out.
So, what does this mean? Here's the thing – every single time Google rolls out a new algorithm update, there are sites that take a beating that shouldn't and vice versa.
And sometimes, you have a site that gets kicked down the SERPs that you think shouldn't have…but an deep audit reveals that maybe it deserved it.
Getting Hit By Google's May 2020 Core Update
Guess what? One of the sites in my portfolio took a hell of a beating when the core update rolled out in May.
The rollout of this update officially started on May 4th, but if you've been in this game long enough then you were able to recognize that it actually had a trial run a week or so earlier (like these big updates always do).
Here's what my Google analytics looks like for this site:

What you don't see in the previous months is that traffic to this site really took off and kind of exploded when the stay at home orders started in the U.S. In fact, it was up to over 10K daily traffic.
What happened was some keywords that I'd been targeting finally moved to the top of page one. And, since the broad niche is entertainment, the search volume was around 10x of normal volume.
So, getting that #1 spot (featured snippet) right before things started getting bad in the U.S. boosted traffic. Then, the traffic really shot up with everyone at home wanting to be entertained.
Other data about this site:
aged 2+ years
minimal link building, but links are all high quality & white hat
the DA is high 20s
most traffic from organic search, but some from Pinterest and Facebook
content quality is good because I wrote 90% of the articles on the site & edited the other 10%
And this is just a sample of the carnage in Ahrefs for this site once the update hit it:

Within a few days this site had zero keywords ranking in the top 100. None at all.
The only traffic the site was getting was via social and non-Google search engines.
While I've had sites take small beatings from algo updates in the past, and I've had manual link penalties, I have never had a site with all of the keywords gone from the top 100 due to an algo update.
What To Do About It?
You can imagine the alarm I felt upon seeing all those rankings vanish. Fortunately, I've been struggling with finding a monetization offer that converts well for this site, so there wasn't a big income loss when this site disappeared from the SERPs.
The first thing that I did was check Search Console to see if I'd somehow gotten a manual penalty. It really looked like a manual penalty.
But a penalty never appeared in Search Console.
Then, I checked to make sure the site was still indexed in Google. It was.
Since I'd seen the Google announcement about Core Web Vitals before anyone else was really talking about it, I figured speed played a part in the core update. So, my next plan of action was to check site speed.
As you can see in the screenshot above, the site was having poor speed on mobile. That first red day is April 20th and the last on June 8th.
This is despite me fixing the speed prior to June 8th – it just took Google that long to actually validate the fix.
Here's a screenshot of the problem: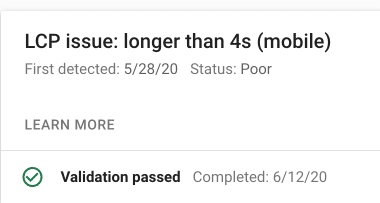 Though I'm not sure why it says it was first detected on May 28th when the graph clearly shows April 20th.
Fixing the poor Core Web Vitals issue was a really easy fix. All I did was move the site from WPX to Cloudways. That's literally all I did.
And I haven't done anything else to the site at all, so far.
Typically, these Google updates roll out and something gets fucked up, so a correction comes about 10 days later. So, I always tell people to wait for that correction to see if things go back to normal.
They did not go back to normal for this site.
Though, the fact that it took Google until June 12th to validate my page speed fix could have something to do with that.
So far, the lowest traffic day for this site since the May 4th core update was on June 12th (which is weird since that's the day they validated the page speed fix). And traffic was 146 for the day.
But if you refer back to the Google Analytics screenshot above, you'll notice that the most recent traffic trend seems to be rising back up.
Yesterday's traffic to the site was 266 and I'm starting to see keywords popping back in Ahrefs. I've even reclaimed a featured snippet.
That being said, I have every intention of going through this site and doing all the things I've detailed in this post. But I likely won't have time to do that for another three weeks.
Final Thoughts
I wrote this post to be transparent about the fact that anyone can get hit by one of these Google updates. Even when you do everything the "right" way.
On a side note, don't you find it interesting that you never hear any of the big gurus admitting that they have sites hit by the algo updates? (With the exception of Spencer Hawes back with the RankHero fiasco)
In fact, I know one white hat guru who got absolutely hammered by a core update a couple of years ago, and then lied about it when asked if he'd gotten hit by it. He still maintains that he's never been hit by an algo update.
Mental.
Anyways….Even though I was doing everything by the book with this site, it still got hit.
But that doesn't mean that there isn't room for improvement on my site. Because I know there is simply because it's an aged site with content that hasn't been updated in a while.
The truth is that once I get through my audit, I know that the site will be stronger than ever.
So, if you've got a site that's been hit by an update – I know the panic, confusion, and anger that you're feeling. All you can do is audit the hell out of your site and keep on working on it until the site bounces back.
Hey, I'm Shawna. I make a living working from my laptop in places like London, Sydney, Dubai, Rome, Oslo, Bangkok, Las Vegas, Barcelona, and Amsterdam. I share how I do some of that on this website.