It's always exciting when a new site takes off, especially when I'm profiling it here on Skipblast.
And this site is no exception to that.
Things have been progressing well with this site since I first posted about it.
And I'm stoked to share what's happened with the site since my last update.
**And as always, I'm an affiliate marketer and this post contains affiliate links, meaning I will be compensated if you make a purchase after clicking on my links
Quick Recap
If you missed how this case study started, then you can read that announcement here.
The tl;dr is that this is aged domain from Odys Global that I bought not really certain what I would do with it, but it was cheap and I wanted to test things.
I added just 15 posts to the site in November 2021 using keywords I found with the LowFruits keyword tool and then I just left the site to sit while I worked on other sites in my portfolio.
Fast forward to January 2022 and the site was ranking and bringing in a surprising amount of traffic for so few posts.
Now, let's jump into how things went for the site this past month.
What Happened In April 2022 For This Site
For April, the focus for me was adding more content and starting to monetize the site so that I'd get a better idea of what sort of income potential the site has.
As I mentioned before, this is a new-to-me niche, so it's all a learning process, really.
Content
As I mentioned in the previous update, I wanted to get a few more posts up on this site before attempting to put AdSense ads on it as to avoid the "low value content" denial.
I only got around to putting a total of five new posts up on the site though!
But since the traffic was doing so well, I went ahead and attempted to put AdSense ads on the site.
It was approved!
So, for part of April this site was monetized with AdSense ads.
Getting back to the content, one thing I think you will find interesting about this site is how freaking short the content is that I'm publishing.
For April, the average word count of the five new posts is just 817 words per post.
Kinda goes against the conventional wisdom from all the gurus, eh?
In fact, if I'd popped these article topics into SurferSEO, then it would have told me that I needed more than 817 words because all of my competition has more than that.
But guess who keeps taking the #1 spot for most of the articles on this site? (spoiler alert: it's me!)
One thing that I noticed when evaluating the competing articles is that the site owners are filling the posts with tons of fluff and irrelevant paragraphs.
To give you an example, if the title of my article was 'how to make homemade chocolate pudding' then my competition is including stuff both not related to chocolate pudding, nor how to make it.
This is really just a test site for me and I don't have time to waste creating bullshit content like that.
So, the articles that I am writing are direct and to the point – no fluff, just the necessary facts.
And, guess what? It's working quite well for me.
Before you start thinking that every single post on this site is around 800 words, let me assure you that is not the case.
I do have some articles that are over 1,000 words each, but the vast majority are well under 1,000 words.
In fact, across all of the articles on the site right now, the average word count is 795 words.
This is both a good and a bad thing though.
It's good because it means that I can get more content up than if I were writing fluff-filled articles.
It's bad because short posts typically mean lower RPMs simply because there is not enough space for the ads.
So, I'm trying to combat that by putting as many images in the posts as I can without it looking too funky.
Will that work? I think so, but we'll find out, I suppose.
Monetization
After adding the five new posts and applying for AdSense approval, half the month was already gone.
So, this site really only had AdSense ads running for a couple of weeks.
That's not really a good amount of time to come to any concrete conclusions for the eventual RPM of this site, but you gotta start somewhere.
I am happy to report that this site did manage to earn a measly sum from the Amazon affiliate program, in addition to the AdSense money.
Note that I'm not really targeting affiliate keywords, but I am including Amazon links when I can recommend a product.
Here's the April income:
Amazon: $1.55
AdSense: $32.17
So, $33.72 for only a couple of weeks running display ads is not bad at all.
The initial RPM running those ads is just over $7.00 per 1,000 pageviews, which is actually better than I expected from AdSense.
If that doesn't change any, then I think it's safe to expect $10-$12 with Ezoic since it always pays more than AdSense, and eventually $15-$20 if the site ends up getting enough traffic for Mediavine or AdThrive.
Honestly, it will be a riot if this site ever reaches $20 RPM since I just started it on a whim with no expectations.
Anyways, I like to estimate conservatively, so it's entirely possible that RPM will settle higher than my estimates.
It's also worth noting that April is the start of Q2, which tends to see a slight drop in RPM as a result of it being the first month of a new quarter.
Traffic
Traffic for this site has continued to grow during April, which is nice to see.
The month ended with around 5,700 sessions, which equals around a 30% increase in sessions over the previous month.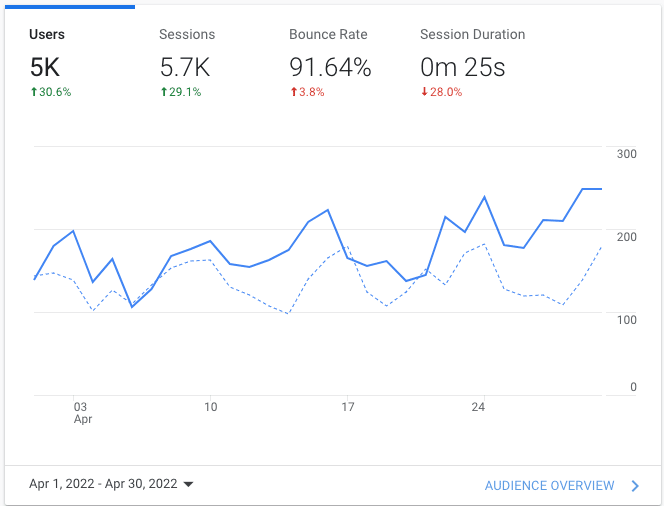 If the ~30% growth trend continues, then I expect this site to cross 7,000 sessions by the end of May.
And this is definitely not a seasonal niche/topic, according to Google Trends.
What's funny is that this may end up being the most evergreen site that I've ever started!
As usual, Ahrefs is a bit behind on the true traffic of this site, but that is to be expected.

As I'm sure you can tell from the screenshot, this domain did have a previous life before I picked it up from Odys Global.
Looks like Ahrefs shows the first traffic going all the way back to 2015 for this site, though it never even reached 1,000/month on the traffic graph.
What's Next?
My plan for May is really quite simple for this site.
I only have two objectives to complete:
Add more content
Switch to Ezoic from AdSense
And, as I'm writing this on May 5th, the site has been approved for Ezoic and I'm in the process of switching over from AdSense for it.
For the new content, I am still working through my keyword list using the LowFruits keyword tool – and I don't expect to run out of topics any time soon.
I hope you continue to find this case study interesting, and in the interim I highly recommend signing up for LowFruits to find some easy keywords for your own sites.
And if you want to get an email when the next update comes out, get your booty on my email list.
Hey, I'm Shawna. I make a living working from my laptop in places like London, Sydney, Dubai, Rome, Oslo, Bangkok, Las Vegas, Barcelona, and Amsterdam. I share how I do some of that on this website.