There are a few milestones in building a site where it gets really exciting. For me, those milestones are when I hit certain revenue targets and certain traffic targets.
And what's great about hitting those milestones is that it does wonders for your motivation.
For the last week or so, I've been anxiously checking my site stats with the expectation that I'd either hit a milestone by the end of the 3rd month or I'd be really close to it.
But I'm not gonna lie – I was really fucking nervous during the recent algo update and when people starting claiming the aged domains and were getting hit.
In case you forgot, this case study site is on an awesome aged domain I got at Odys. (this link gets you a 100 USD/EUR welcome bonus)
If this is your first time here, the I suggest catching up on the old updates first:
I'm excited to share what's happened with the site, so let's dive in!
**And as always, I'm an affiliate marketer and this post probably contains affiliate links, meaning I will be compensated if you make a purchase after clicking on my links
Month Three
Let's cut to the chase, shall we?
This site hit 10K monthly sessions by the end of month three.
That's 90 days.
Ninety fucking days to 10K traffic! That's mental!
Man, I am so stoked about this.
This site managed to reclaim those featured snippets that I talked about getting and then losing last update. And, it's managed to secure a fuckload more of them.
Here's the update Ahrefs sent me about this site yesterday: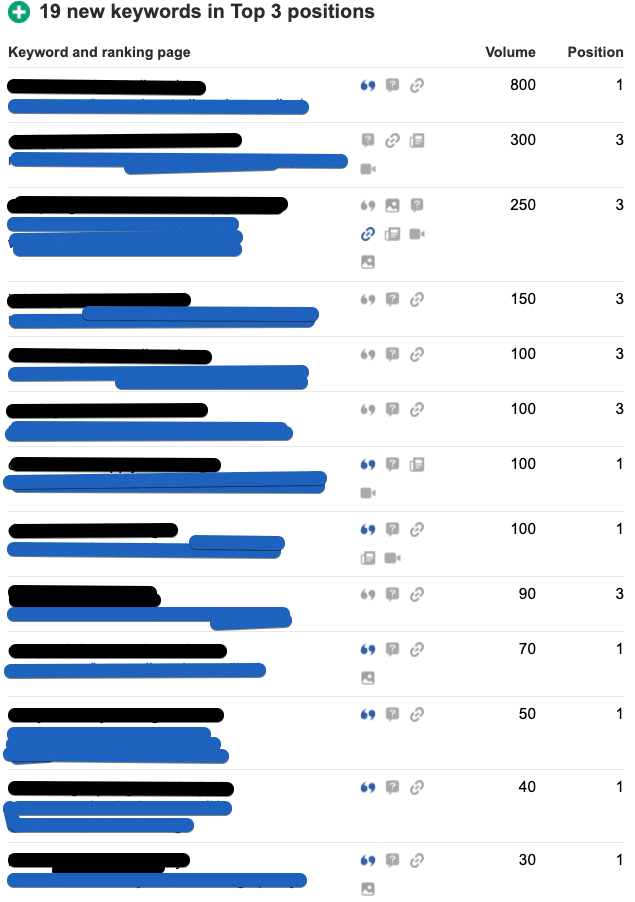 Yeah, I couldn't fit in all the new number 1 rankings…but I tried.
So, one thing you'll notice from that screenshot is that I'm ranking for a lot of really small volume keywords, right? Most of those are just variations of the bigger keywords, so not specifically unique keywords that I'm chasing.
Of course, you should know by now that keyword volumes in these tools are total shit, right? Sometimes they're off by a little, and sometimes they're off by a lot.
That keyword that shows 150 monthly volume where I'm ranked #3 — that keyword is the title of my post and it brought me traffic of 1,520 in the last 30 days.
Content is still 100% focused on informational titles, but one of the new articles did lend to the placement of two Amazon affiliate links. That gets me up to two total posts with affiliate links.
Unfortunately, I haven't yet made it to 100 posts with this site and I'm not entirely sure that I'll make it by year's end, which has been my goal. But I'm going to be REALLY close.
I did manage to add in 12 new posts over the last 30 days. That puts me at around 20 posts from my goal of 100 by December 31.
And though I didn't plan on doing any link building for this site, I did score one new link via HARO.
This site has also managed to make more sales via Amazon, though nothing really exciting since it's a small amount….really, it's basically just pennies.
Month Three Summary
I got less new content up than I'd hoped for, but the site is still doing awesome in the SERPs. It didn't get hit by the algo update and it's hit the first traffic milestone that I've set for the site.
Here's how the third month of this new site looked:
Traffic: 10K sessions
New Published Posts: 12 (of which 10 were outsourced)
Total spent this month: $595.83 ($4,133.85 to date)
Per article average cost of outsourced content: $48.82 this month ($42.32 to date)
Total published words to date: 105,829
Average word count per article: 1,332
Income: $0.38 this month ($6.74 to date)
Links built: 1
New natural links: 0
Initial Budget Remaining: $872.89
So, the very next thing that I'm doing for this site is getting it setup with Ezoic to starting bring in some display ad monies. Honestly, I should have added AdSense to it last month but I didn't think about it.
But now that I'm at the 10K monthly sessions, it qualifies for Ezoic (and that pays more than AdSense so it's all good).
Based on what I've seen people saying about this niche in other forums and groups, I'm expecting an EPMV between $5 and $8 with Ezoic. This allows me to start recouping some of the money that I spent…
Or actually what I'll do is use the earnings to keep spending.
I've got less than $1,000 left of my original $5,000 budget and anything that I earn will be reinvested into this site, for now.
What I want to do is get this site up to 300 articles as fast as I can and then I'll slow the content production. There are two reasons that I want to do this:
to front load most of the expenses for when I sell the site (the multiple will be based on the profit of the more recent months and not the early ones with all the expenses)
to reach my other milestones as quickly as I can
If I was single, then I'd just use credit cards or savings to order those next 200 articles to get them up ASAP. That would cost me somewhere between $8,000 and $10,000.
But I'm married, so I'll be sticking to my original $5,000 budget.
For the next month, my focus is still on cranking out more informational content. I'll also be adding Ezoic ads to the site to get some income coming in.
Questions?
Did you miss how this case study started? Get caught up from the beginning here.
Hey, I'm Shawna. I make a living working from my laptop in places like London, Sydney, Dubai, Rome, Oslo, Bangkok, Las Vegas, Barcelona, and Amsterdam. I share how I do some of that on this website.