When you do affiliate marketing outside of just Amazon Associates, you can end up with a ton of affiliate programs to keep track of.
That means having to log into a million different places whenever you wanna check on the state of the business.
What a time suck.
I don't have time for that, so I only end up logging into all of my affiliate accounts once the month ends.
But that also means that I never really know how things are going until it's all over.
When I learned about Lasso preparing to release Performance, I was cautiously optimistic cause I've seen services like this pop up in the past and they always have two problems for me – they're too expensive and they won't work for me because I have multiple LLCs with their own Amazon accounts.
You guys, I think this one is it though.
It's both affordable and it works with multiple Amazon accounts!
**And as always, I'm an affiliate marketer and this post contains affiliate links, meaning I will be compensated if you make a purchase after clicking on my link.
What Is Performance by Lasso?
As you might have guessed, Performance is something totally new from the team behind the Lasso affiliate plugin.
But – you don't need to be a paying Lasso customer in order to use Performace.
Quick note: Performance is FREE to everyone for tracking up to $1,000 in affiliate commissions per month!!  Sign up here
You see, Lasso is basically a performance dashboard for affiliate marketers where you can see how much money you're making from ALL of your affiliate programs.
Even if you have more than one Amazon account, like me.
Here's a look at my Performance dashboard for site #5 in my Ezoic income reports –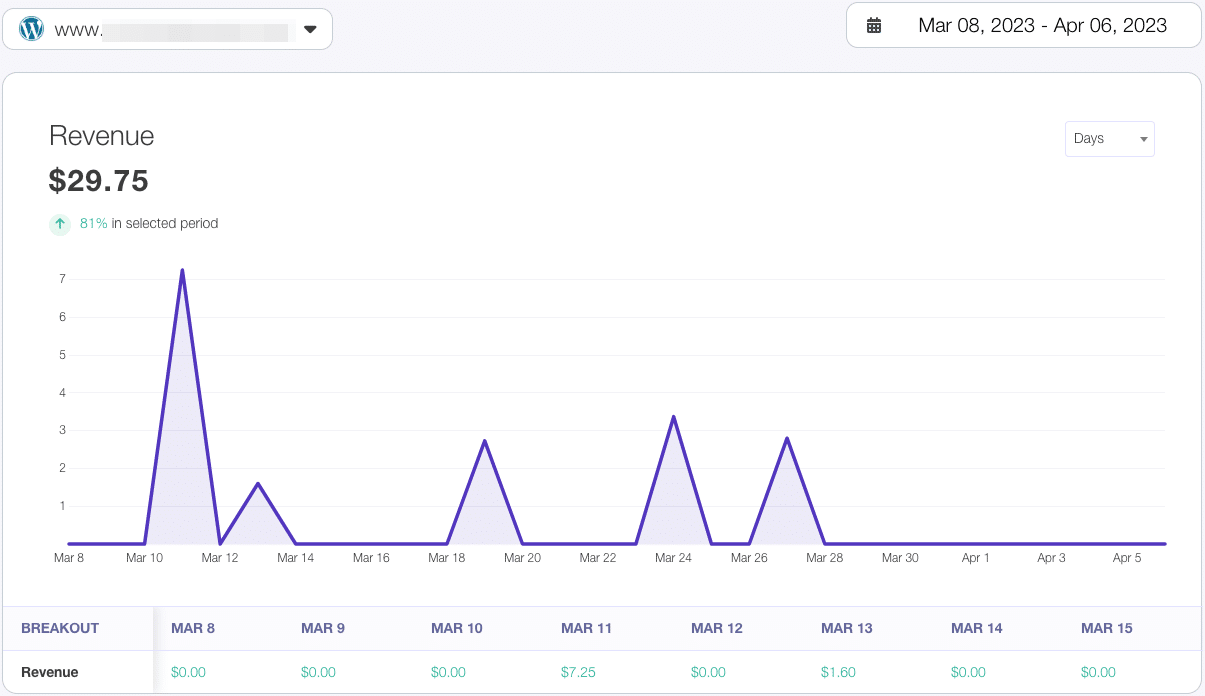 I didn't yet have my Amazon account integrated when I took this screenshot though.
But they seem to have all the major affiliate programs available, with more on the way.
And you can even request one that you don't see listed.
I have to admit that I was given early details of Performance and selfishly made requests for affiliate platforms that I use, like Partnerize where the Chewy affiliate program lives.
So, I can tell you that the team is very receptive to requests.
Why I Like Lasso Performance
I think my favorite thing about this new affiliate link monitor is that it is so freaking cheap to use!
They don't require that you're a Lasso customer (though you'll get more data if you are).
And EVERYONE gets their first $1,000 of tracked revenue each month for free.
If you're earning more than $1,000 in a month, then you end up on an ultra-cheap sliding scale:
$19/month for tracking between $1,000 and $5,000
and just $3 per additional $1,000 of revenue tracked after that
Plus, you won't be billed for tracked revenue until the last day of the month.
I also like the extra insights you get from having all of your affiliate revenue streams in one dashboard.
This sort of thing makes it easy to identify the programs that are converting the best and those that might not be worth your time.
And we all wanna make more money, right?
They even send you emails to keep you updated on your earnings progress throughout the month.
Another thing that I like about Performance is that it actually works with all of my Amazon affiliate accounts.
Plus, integration is super easy – not just for Amazon, but all the programs.
But do note that it does take 24 hours for the data to start rolling in, so you won't just integrate and have immediate data at your fingertips.
And most importantly, it doesn't slow your site down cause you don't gotta install anything on it!
But Is It Really Worth It?
While I can only speak for me, I think Performance is pretty awesome and definitely worth it.
I've never used any of the alternatives, but that's only because they wouldn't actually work for me due to my multiple Amazon accounts.
That being said, even if I was using something else right now, I think just the lower pricing would be enough to get me to switch.
While there may be multiple alternatives out there, Affilimate was the only one that I ever seriously considered using and it starts at $99/mo these days.
They also have a "Lite" plan for a single website earning less than $10,000 monthly and getting less than 100,000 monthly pageviews at a cost of $290/year, or $24.17/month (just for a frame of reference).
So, check out all your options and determine which one best meets your needs these days.
And remember, the first $1,000 in monthly earnings is tracked totally for free – you can even cancel right before the end of the month and not pay a single cent if you're over $1,000 monthly earnings.
You can sign up for Performance here.
Am I using it? Yes, yes I am.
(but you should know I only promote shit I've actually used or currently use)
Hey, I'm Shawna. I make a living working from my laptop in places like London, Sydney, Dubai, Rome, Oslo, Bangkok, Las Vegas, Barcelona, and Amsterdam. I share how I do some of that on this website.