With just a few days before Black Friday, I've been hustling my ass off to get my best sites ranking even better and for even more keywords. I hope you've done the same! If not, the time to start preparing for Black Friday and Christmas shopping 2018 is right NOW. Seriously. If you didn't get your sites ready for this holiday shopping season, then get off your ass and start working on them today for next year's shopping season. But first, let me give you an update on the case study sites and few other things I've been working on.
What's Been Going On Since The Last Update?
Wow, it's been over four months since the last update! In that time I've taken another three-week trip where I worked absolutely zero hours on my sites/client work, and a few other small trips here and there. We also had that terrible shooting in Las Vegas, which is where I've been living. That was obviously a big deal and really affected my productivity levels for at least a good week. But that's the great thing about having a portfolio of niche authority sites – you can leave them sitting for weeks and still keep making money.
I've also been making some plans for a big move next year to Europe. It's not easy for Americans to move to Europe, with few countries offering self-employed visas that allow us to obtain residence permits. If that's something that interests you, then you're in luck cause I'll be writing more about the process in the next few months. Right now the target move date is about 9 – 12 months from now.
I also re-opened my course and started a brand new site for a case study, focusing on a slightly different approach to authority site building, which I'm really excited about.
Case Study Sites Status
I went through a really focused period on case study site #1 where I was posting a lot of content and acquiring some niche relevant links. You see, the summer months are the highest trending season for it's niche and I was making a mad dash to try to get the income up before the season ended. Spoiler alert: I waited too long and didn't make enough progress before the season ended (I stopped posting new content in August). That's the bad news. The good news is that I'm in a great position for when the season ramps back up again next year. This is a bit of a setback for me as I was hoping to sell the site this year so that I could be done with it. Best laid plans, eh?
Site #1: 
Number of posts live as of October 30 = 105 posts
Number of posts added since last update = 38
Niche: seasonal
Number of keywords per SEMrush: 5.0K
Backlinks: mixture of blog comments, web 2.0s, natural/editorial/guest post, and my PBNs
Content: mixture of outsourced and written by me
Income status: profitable

If you look at the two images above, you'll notice that this site has it's biggest spike in April of this year. Why? That was the start of the buying season and I owned all the featured snippets for the most part. And that decline the next few months was me losing those featured snippets to big brands and other niche sites that are backed by a heavy amount of PBNs.
A note about PBNs: Yes I use them on my sites, either PBNs that I own or those that I rent from Diggity Links. However, I don't like too much risk so I never heavily use PBNs like my competitors in this niche do. So, I could just load up on PBNs and know it'd be easier to compete, but for now I'm trying to get cleaner links and see what happens. Though I may go more heavily in to PBNs if that doesn't work!
Site #2:
Number of posts live as of October 30 = 54 posts
Number of posts added since last update = 2 posts
Niche: evergreen
Backlinks: mixture of editorial, guest posts, scholarship, and web 2.0s
Number of keywords per SEMrush: 3.6K
Content: 100% outsourced
Income status: profitable as of Feb. 28, 2017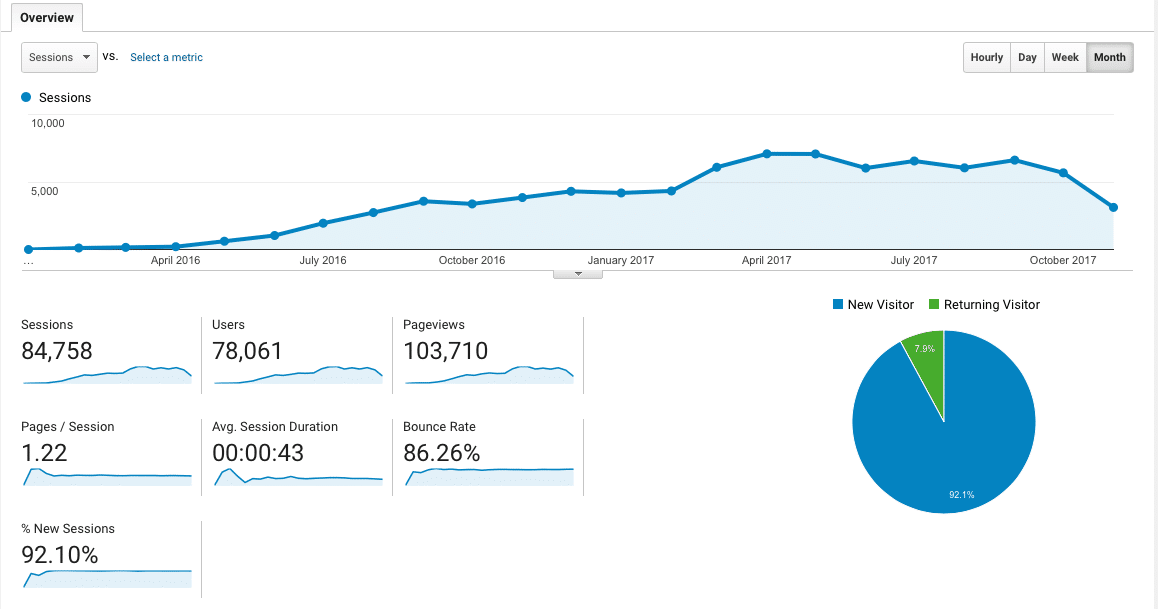 Let's be honest for a minute. What I've let happen here is downright shameful. Even a bit embarrassing since I'm having to publicly show you such a failure. But I own it 100%.
This site is in an evergreen niche and has always ranked well with minimal links. I don't even use PBNs on this site! But, I've been seriously neglecting it and losing site of the end goal. I've put a total of five new posts on this site since January 1, 2017 – so only five new posts this year – and three of those five are guest posts!
Meanwhile, other affiliate marketers have entered this niche and are grabbing my rankings with their sites, which use plenty of PBNs. Basically, I let easy money fall right through my fingers and some other affiliate marketers are taking that cash home. This site's number of ranking keywords in SEMrush actually declined since last update! And it's a fucking shame that I let it happen. But hey, this is how it goes sometimes when you have other sites to work on or even if you have a day job that takes up your time.
In my case, I was focused more heavily on my sites that make around $10K monthly each and I let this one fall off page one for several keywords. So, sometimes you leave sites sitting in the SERPs and you keep earning the same regular income each month, but other times that income dwindles down a little each month. (note: this is a good reason to not spread yourself too thin by having too many sites in your portfolio, like me)
So, let's not delay the inevitable and get to that declining income report…
Case Study Sites Income
I'm going to be straight with you – the income for these sites is nowhere near what I want or expected it to be at. It's my own fault and I know it. I can tell you how I increased some of my other sites monthly incomes by thousands of dollars, but that doesn't really matter when these two are not where they need to be. This is a grind and if you're not focused this can happen sometimes. And there's only so much I can blame the decline in Amazon Associates commission levels for these two niches.
Case Study Site #1 Income
April 2016: $14.19
May: $22.07
June: $185.11
July: $273.17
August: $390.37
September: $260.14
October: $339.17
November: $608.91
December: $1,266.01
January 2017: $532.15
February: $929.63
March: $876.39
April: $677.53
May: $684.64
June: $662.35
July: $575.72
August: $466.23
September: $255.31
October: $259.66
Case Study Site #2 Income
March 2016: $0.02
April: $1.77
May: $2.26
June: $75.42
July: $156.37
August: $199.14
September: $196.08
October: $186.60
November: $371.08
December: $673.09
January 2017: $414.32
February: $342.79
March: $338.36
April: $329.70
May: $379.74
June: $285.57 (ouch)
July: $270.71
August: $252.85
September: $268.71
October: $193.41
Obviously, it's time for me to ramp up my focus for these two sites, especially site #2, so that I can get these earnings back on an upward trend. However, I have the rest of this year already planned out in terms of content creation and linkbuilding, so I likely won't get around to these sites until January. So, expect more sad earnings reports.
What's To Come With This Case Study?
Yeah, I keep saying that I'm going to hit these sites hard so they rebound and that isn't exactly happening, is it? So, soon I will be planning out my Q1 2018 schedule and I really need to get these sites back in my focus rotation. You see, since I have so many sites in my portfolio, I focus on five sites each quarter. This quarter neither of these sites are in my focus rotation.
However, I have recently taken up linkbuilding for site #1 until I can focus more on content creation for it. My hope is that it helps some until I can give it more focus.
I'm also still trying to reclaim my lost featured snippets for site #1. I am SO close for a few of them with just more linkbuilding. My next plan of action is to create some topically relevant informational content that I can use for internal linking to the money post that should be in the featured snippet. Based on my experience, this should give me that final push to the top.
Previous updates to this case study:
Hey, I'm Shawna. I make a living working from my laptop in places like London, Sydney, Dubai, Rome, Oslo, Bangkok, Las Vegas, Barcelona, and Amsterdam. I share how I do some of that on this website.